We are living in an unprecedented time – where being in a crisis has become the new normal and we all must quickly adapt, to stay afloat and hopefully thrive. #SocialDistancing is not just a buzzword but a way of life and one of the ways the world is practicing it, is by working remotely.
Entire organizations and individuals have had to flip a switch overnight, pushing people out of comfort zones, having to manage expectations, fears, and communication on a subject for which there is no playbook.
The concept of telecommuting is not new to the MatchCraft team as 54% of MatchCraft employees work remotely on a daily basis. So, we mostly know the lay of the land when it comes to navigating challenges (& opportunities) associated with working from home. That is not to say that we didn't face a few hiccups when we had to transition our team to a 100% remote status.
However, simply equipping your team for remote work is not enough. It is important for businesses to understand the impact of this crisis on their employees. And one way to do so is by evaluating how people belonging to different generations function during a crisis, along with their concerns & limitations. And most importantly, how their strengths can be best harnessed to manage a crisis.
Recently, our CEO Sandy Lohr joined the SIINDA team to share her learnings & tips on managing a generational workforce virtually in times of crisis. You can listen to the webinar here.
Below are some of the key points that were discussed.
An Intergenerational Workforce
For the first time ever, there are six generations in the workplace:
The Silent Generation
Baby Boomers
Gen X
Xennials
Millennials
Gen Z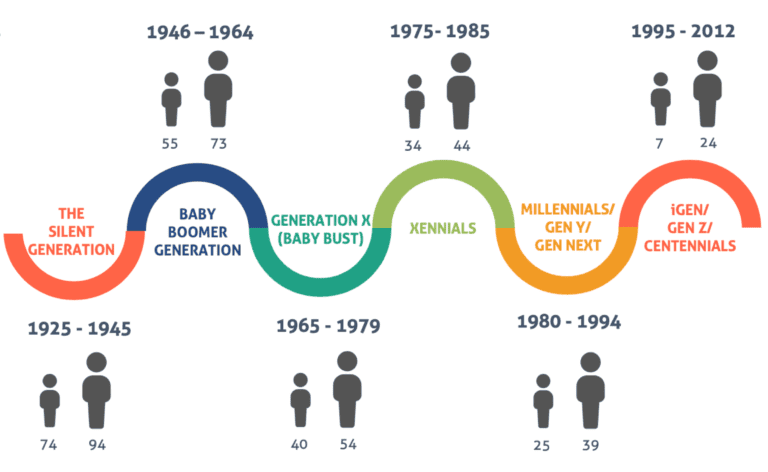 There are many stereotypes associated with each of these generations – Entitled Millennials!" "Jaded Gen X-ers!" "Stubborn Baby Boomers!". And easy as it may be to delve on the perceived attributes of each generation, what we need to do instead is focus on understanding who they actually are, and how this crisis is affecting them.
Generational Differences & Challenges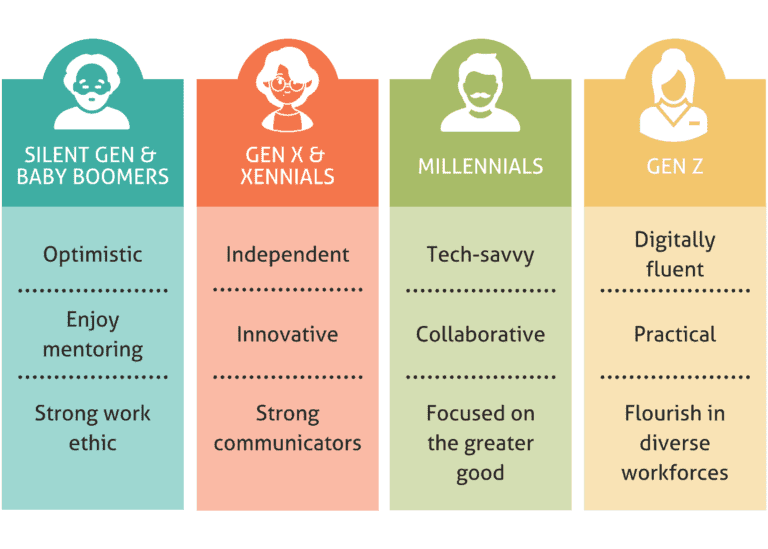 What do they bring to the table?
(Content Source:https://www.lifehack.org/408068/how-to-master-the-multigenerational-workforce )
Views on Remote Work – The Silent Gen & Baby Boomers see working from home as a privilege, not a right. Gen X & Xennials are quick to adapt to virtual team environments. But it's the Millennials and Gen Z-ers that are the most comfortable with collaborating online as they have grown up surrounded by technology.
Ability to Adapt – Silent Gen & Baby Boomers are used to a very structured way of working which may be making it harder for them to adapt to the fast-changing business needs in this time of crisis. Gen X & Xennials have already learned to adapt to the quick-paced digital world and are better equipped to deal with this business crisis. Millennials and Gen Z-ers are creative communicators and are all about the greater good – and that has translated well in this time of crisis.At MatchCraft we have had to have all hands on deck to respond to the ever-growing concerns and needs of our clients and it has been our Millennial & Gen Z employees that have shown the most initiative – they are better/faster at doing so. Their attitude is to do whatever it takes to not just survive but to thrive.
Managing Increased Workload – Being safer-at-home has come with its own challenges. We all now have a bunch of new jobs/roles that have been added to our plates. For a lot of Silent Gen & Baby Boomer workers, virtual work comes with the additional responsibility of watching their grandkids as they work and, in some cases, caring for their own parents. Gen X-ers & Xennials have, overnight, assumed the responsibilities of work, parent, teacher, and school counselor all at the same time. Millennials have babies and young kids, with childcare centers closed and babysitters/nannies unavailable, they now have to juggle office work and new parent duties. All generations also have to do more household chores such as cooking & cleaning. The one saving grace for time-strapped workers is online shopping!
Economic Uncertainty –  As economic uncertainty looms heavy, most people are concerned about whether their employers will be able to stay afloat and not lay them off. However, the current economic hardship may have different implications for different generations. Boomers, and the Silent Gen, have been financially successful and are coined as being the wealthiest generation. They have also had years to pay off their mortgages and for the most part are free of that responsibility. So, an economic downturn would not affect their housing situation. However, being in the highest risk group for contracting the COVID-19 virus, they have to be mindful of and plan for possible medical expenses. Gen X & Xennials are both home-owners and parents, so they have major financial responsibilities, and being laid off would affect their financial situations greatly. And although Millennials & Gen Z-ers have costs associated with housing, they are not as high as those of Gen Xers. Most Gen Z-ers also don't have kids, which further reduces their living costs. Lastly, being in a low-risk group for the virus, the perceived health costs for both Millennials & Gen Z are also low.
Challenges & Benefits of Remote Work
Even though remote work is not the only challenge that has come up during this crisis, it is the one that all generations can relate to.
For a study being conducted by Buffer, 2,500 remote workers around the globe were asked what they considered to be the biggest benefits & challenges of working remotely. But that was pre-COVID. In an effort to understand how COVID has changed people's perceptions, we conducted a similar study, on a micro-level, with our MatchCraft team. Below are the results from both:

Pre-COVID Benefits
(Source: https://buffer.com/state-of-remote-work-2019# )

Post-COVID Benefits
(Source: MatchCraft Employee Survey)

Pre-COVID Challenges
(Source: https://buffer.com/state-of-remote-work-2019# )
Post-COVID Challenges
(Source: MatchCraft Employee Survey)
Managing Your Intergenerational Team Remotely in a Crisis – Differences Seen as Strengths
Companies can harness these generational differences and common challenges to create a symbiotic environment where employees belonging to different generations help each other maneuver the current crisis, by treating their differences as strengths, instead of hurdles.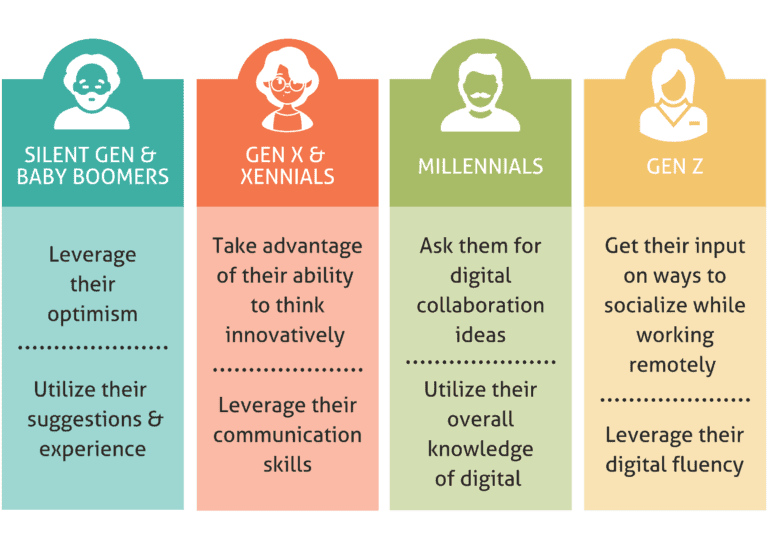 How to Best Use Those Strengths During a Crisis
(Source: https://www.lifehack.org/408068/how-to-master-the-multigenerational-workforce & https://www.ngenperformance.com/blog/hr-training/a-generational-perspective-to-managing-virtual-teams)
Bridging the Technology Gap – First and foremost, your team needs to be equipped with the correct tools to work remotely – internet, hardware & software. The next step is to make working from home a smooth process for all.For Silent Gen & Baby Boomer employees who prefer face-to-face interactions, using highly interactive technology such as video conferences, real-time chats, and other tools will ensure an engaging experience for all team members. Since Gen X-ers & Xennials can bridge the ideology gap between the older and new gens, ask them for innovative ideas on how teams can work and communicate effectively while working remotely. Millennials & Gen Z-ers are digital natives – ask them for their input on everything digital, especially on how technology can be better leveraged to increase collaboration. They understand how to work, and socialize, virtually.
Ensuring Seamless Communication & Collaboration – Companies with a global presence face the additional challenge of helping employees communicate and collaborate with their co-workers, & clients, while in different time zones. Maintaining regular communication with teams and clients across the globe has become a critical need during this crisis.For uninterrupted internal communication, we recommend staying connected via messaging, conference calls, and project management apps. Also, utilizing project management apps & tools such as Google Drive to collaborate on ongoing projects with team members. We also recommend sharing white-papers and trend analysis reports to keep your clients informed on trends that may directly impact their businesses.

Herein lies a great opportunity to draw from the experience of Baby Boomers & Silent Gen, leverage the communication skills of Gen X & Xennials, and get suggestions from Millennials & Gen Z on how to best use technology to ensure seamless communication on all fronts.

Here is a good example of how MatchCraft's multi-generational team worked together recently to solve a time-sensitive client issue – A large agency was dropped by their AdTech provider overnight due to this crisis. Which meant they needed to transition all their advertisers/merchants to a new platform and quickly. Our team stepped it up in a major way to help this client. Our team worked around the clock, not worrying about the normal work hours, to migrate this client's campaigns into our platform in just 5 hours – work that usually takes a couple of weeks.
Reverse Mentoring to Increase Motivation – Because the younger generations are so adept at technology, they can advise older co-workers on how to manage, & thrive in, a remote working situation. Knowledge transfer does not have to be a one-way street.
Socializing & Unplugging from Afar – Humans are social beings and for all its benefits, the one thing remote work cannot provide is that break room chat that has always been an integral part of employee workdays, especially for employees belonging to the older generations.Companies can alleviate the isolation their employees may be experiencing by encouraging them to use their work communication tools to also socialize with their co-workers. Millennials & Gen Z can be especially helpful in coming up with new ideas for online socialization. Also, the ever-present optimism of Baby Boomers of Silent Gen-ers may be a great asset here.

At MatchCraft we have been making concerted efforts to keep all our employees engaged by conducting many fun virtual activities like:

BYOL (Bring Your Own Lunch) – Our teams were given the opportunity to socialize and get to know each other in a casual environment via moderated video chats.
#CoroNO Meme Contest – To lighten the mood, we asked MatchCraft employees to create fun memes.
Interactive All-Staff Meetings – For our last month's, fully remote, all-staff meeting, we asked our employees to share pictures of their recent vacations & this month, all employees were requested to wear fun hats.
At MatchCraft we are continuously striving to do right by our employees and clients, in this ever-evolving situation. As uncertainty looms heavy, companies must make honest efforts to understand and address the concerns of their employees. Because no matter which generation you or your employees may belong to, we are all in this together!
---
Want to learn more about MatchCraft?
Contact Us