Our CEO, Sandy Lohr recently spoke at the HealthCare Internet Conference (HCIC) held in Orlando, Florida, about "Millennials' Perspective on Healthcare".
There is a growing and concerning trend within the healthcare industry of skepticism and mistrust among millennials when it comes to their providers. A 2018 survey by Harmony Healthcare IT  indicated that 24% of the Millennials they surveyed have gone five years or more without getting an annual physical examination. Furthermore, about 36% admit to self-treating at home before visiting a doctor. Millennials usually associate their doctors' offices with "sick care" and don't want to be perceived as unhealthy.
In order to overcome these concerns, it is important to understand how Millennials operate and what will make them want to visit their doctor's office. We think the answer is a non-traditional, multi-faceted approach.
Online Scrutiny
Millennials treat their healthcare, just like any other product or service they are looking to purchase. They like to research their options, identify the top contenders and then extensively read reviews on their selections. 60% of consumers need to read four or more reviews before forming an opinion. Online reviews play a significant role in the Millennial's selection of healthcare providers, 77% of patients use online reviews as their first step in finding a new doctor. So much so that providers need to be hyper-aware of the fact that they are always been rated and reviewed online.
To put the importance of online patient reviews into perspective, 80% of consumers trust online reviews as much as personal recommendations.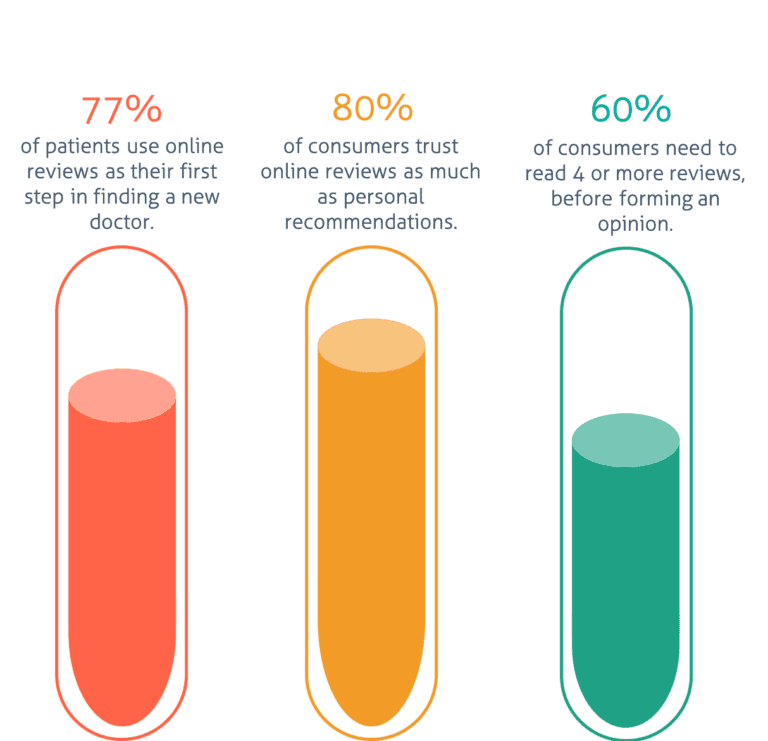 To ensure that they are reaching their millennial audience, healthcare providers must have their online presence span across, their own websites, directories, consumer sites, third-party review websites, social media, and even direct messaging.
The Ideal Healthcare Experience for Millennials
Millennials value their time above all else and that attitude carries into their relationship with healthcare as well.
As per a consumer survey commissioned by doctor.com, 60% of consumers expect their healthcare digital experience to mirror that of retail. They want convenient access to their healthcare and expect their providers' efforts to reflect that need.
Another challenge that millennials pose is that they don't like to pick up the phone to call and/or talk to anyone.  74% of patients want to book their appointments and pay their bills online. This not only changes how healthcare providers interact with their patients but also how they track their marketing metrics – call tracking ceases to be the start of the show. This trend also brings about a shift in the job functions of healthcare industry employees, for example, the job a receptionist is now more about providing customer service than setting appointments. 
"Service is so important to millennials that they are willing to sacrifice price to receive better convenience.", according to a study conducted by Accenture. Millennials expect relevant and personal experiences vs. generic mass marketing.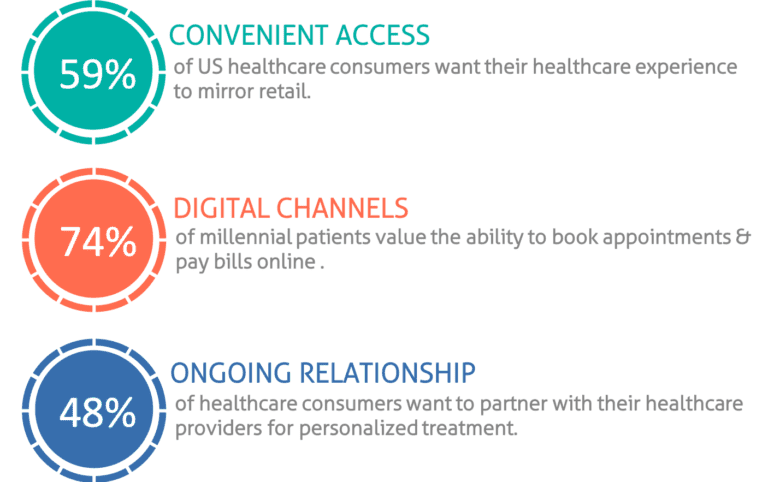 So, to attract and engage this tech-savvy audience, it is important that physicians and healthcare facilities know and take advantage of the latest tech. They need to ensure they are providing knowledgeable customer service delivered across multiple touchpoints, and personalized messaging via their patients' preferred digital channels.
Make Your Office Millennial Friendly
A Harvard study shows that the average doctor's appointment is about 121 minutes.  We all know that the time a patient spends with the actual doctor is far less than that, 13-16 minutes on average in the US. This means the rest of the time is spent sitting in the waiting room of the healthcare practitioner's office. We think Healthcare facilities should strive to keep their patients engaged during their office visits by offering personalized, Millennial-friendly amenities and entertainment.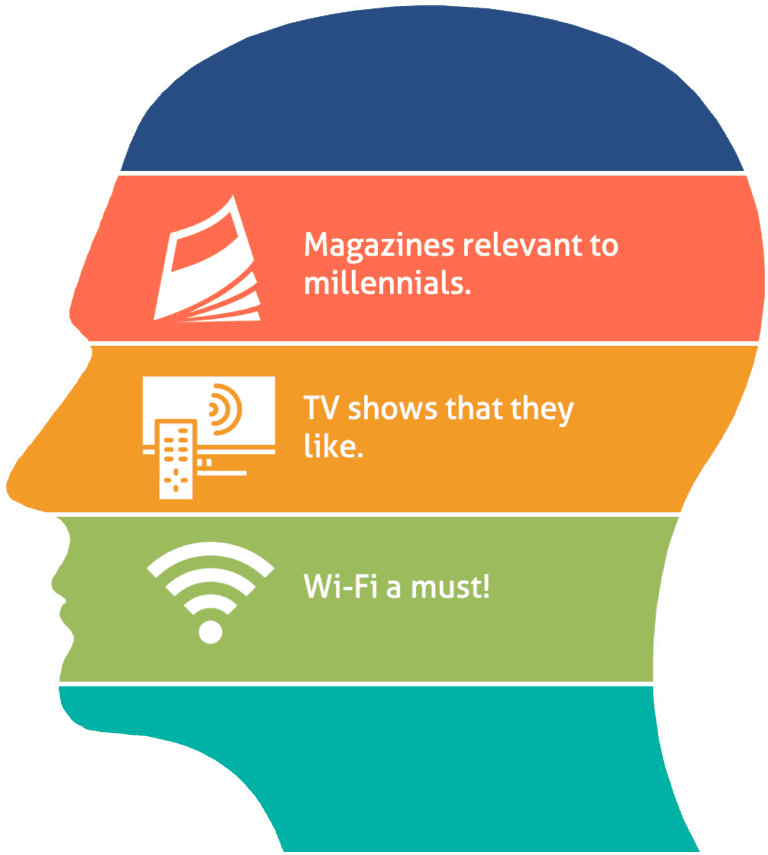 When thinking of Millennial-friendly amenities, the first thing that comes to mind is WiFi. Healthcare providers can benefit greatly from offering free customer WiFi. Here are a few reasons why;
Patients are happier and more comfortable while waiting. If visitors are distracted because of the internet, they won't mind (or even notice) if they have to wait a few extra minutes before their appointment.
Healthcare providers can create landing pages that share important information regarding the services being offered by them.
WiFi also offers a great opportunity to promote your social media channels and to have patients sign up for email or text alerts.
Use More Technology
Technology wields a huge potential for improving healthcare. Healthcare providers have an opportunity to revolutionize health management in meaningful new ways. Whether it be using mobile devices during an appointment to share information, a perk that interests 73% of Millennials, or gathering patient data via wearable devices.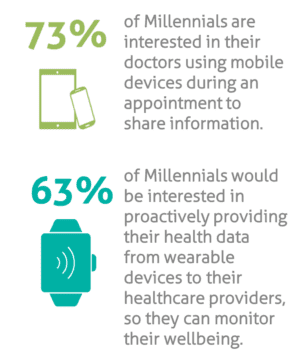 Not Just Millennials
According to HealthPopuli, though millennials are more likely to use health technology than older adults, about half of seniors are using technology to refill prescriptions. Even more convincing are these findings from a national survey by the Pew Research Center's Internet & American Life Project:
For ages 50-64:
71% seek healthcare information online.
60% search for healthcare information on Facebook.
For ages 65+:
58% seek healthcare information online.
43% search for healthcare information on Facebook.
Based on these numbers, it's safe to say that older generations are more technologically savvy than many would give them credit for. Research indicates that seniors are in fact demanding to be included in this digital revolution.
Digital DNA
Millennials represent almost 25% of the US population and its growing. They grew up with the Internet and now with mobile technology at their fingertips, a vast majority of Millennials take digital technology as a fact of life. Digital is a part of their DNA.
They expect others will similarly rely on digital technology, their doctors included. So, it is important to keep in mind that, for Millennials, healthcare should happen quickly and efficiently. They want their healthcare to do more; be more effective, more convenient, more efficient, and more transparent.