How MatchCraft thrives & attracts top-talent in a virtual workplace
Nicole Webb, VP People + Culture
November 2021
In 2020 we shared our framework for a virtual-centric workplace and culture.  Now, one year later, we're sharing what we've learned and how we've evolved our virtual culture to retain top talent as the "Great Resignation" looms.
The pandemic has shifted where and how employees are working, and has impacted the job market in a major way. The workplace has had a 180° swing, from the beginning of the pandemic with mass layoffs, to where we are today facing a surge of job openings and competing for talent. COVID-19 caused an economic downturn which led to the highest unemployment rate and involuntary turnover rate in the US since the Great Depression in 1932, and nearly twice what the US experienced between 2007 and 2009 during the peak of the financial crisis as reported by The Washington Post. In the current phase of the pandemic, the overall unemployment rate has settled in the 5% range, the lowest it has been since March 2020 according to Trading Economics.
Minimizing voluntary turnover has been the focus for employers throughout 2021. Job openings increased by over 50% in August 2021 compared to one year ago according to Statista. Jack Kelly from Forbes suggests we are in a much better place related to job openings, he goes on to explain "The same sectors that were crushed during the pandemic—hotels, restaurants, bars, manufacturing, travel, concerts and sporting events—are now leading the charge in job openings." This swing in the job market is helping to fuel "The Big Quit"  and is making it harder to retain and attract top talent in an already competitive recruiting landscape.
MatchCraft's global footprint, encompassing both employees and clients, provides visibility into similar trends across several regions. While trends indicate a rapid increase in employee churn, driven by the desire to move on from one's current role, there are nuances to how each country's employment market has been impacted by the pandemic. Those nuances pose a challenge when comparing international employment trends as various social and economic factors must be taken into consideration. However, analysis from the UK, whose employment market is similar to that of the US, indicates a similar "Great Resignation" trend.
The Microsoft Work Trend Index found that 40% of people across the globe want to change jobs this year. A survey of workers in the U.K. and Ireland, conducted by Personio, put the number at 38% and a similar U.S.  survey found 26% of workers are planning to leave their current job over the next few months.  Personio also reported  'US-like results', from a survey of Dutch workers, stating nearly half of all workers surveyed planned to quit their current job in the next year.  Although, European HR expert, Wim Davisde, adds "I do expect to see a larger increase of people quitting than what we're used to, mainly due to a COVID and Zoom-related tiredness, managers that have been found out — but a Great Resignation would seem very un-European to me" as reported by Totalent.eu.
Experts in Mexico haven't seen the exodus that the US has experienced, likely due to the lack of unemployment services and financial subsidies.  Studies such as the Seventh Study on Internet Job Search, published by the Internet MX Association, and reported by Entrepreneur.com, have shown that almost half of employed Mexicans still actively look for other employment opportunities. And with the changing landscape, experts in Talent Management like Barroso Boelsterly, say that the differentiator in attracting top talent in Mexico will be on benefits like wellness, customized compensation schemes, and vacation.
COHORT IMPACT
Professionals aged 30 – 45 are top of the list for resigning in 2021.   Business Insider reports that the geriatric millennial cohort has the most power in the workforce right now.  Another study, in August 2021, by Personal Capital and The Harris Poll found that 78% of millennials surveyed were keen to switch jobs, and two-thirds of millennials agreed that "Now would be a great time to make a career move."
MatchCraft's data reflects similar findings related to millennials resigning to return to school, follow passion projects, and interestingly, get back into an office environment that allows face-to-face interactions and relieves the burden of doubling living space as office space in multi-generational homes.
EMPLOYEE RETENTION SUCCESS FACTORS
MATCHCRAFT'S RETENTION RATE
Remaining Remote
The overwhelming response to our internal poll and analysis was that employees preferred to either remain fully remote or have the option to use a flex space on occasion. Those findings were in alignment with trends reported by both Microsoft and Forbes.
In a July 2021 interview with the LA Business Journal, MatchCraft CEO, Sandy Lohr discussed the decision to remain permanently remote and to vacate our office space after an internal survey showed the majority of employees preferred to work remotely. "For our L.A. team, it is not a surprise that their top reason was to forgo their long and frustrating commutes".
Virtual Recruiting and Onboarding
A hyper-competitive recruiting landscape has challenged our team to look at new job boards and redesign job descriptions.
The recruiting process has been revamped to include more group interviews and a timely end-to-end interview process for candidates. Reducing the time-to-hire can be the difference between locking in new talent and losing them to another company.
Working 100% remote can have challenges, incorporating questions tailored to accountability and responsibility throughout the interview process helps identify self-starters.
The decision to go 100% remote has expanded access to top talent from new regions and the ability to acquire talent over other technology companies.
Being Truly Inclusive 
Think Globally: As a global company, finding ways to engage and give back can be challenging, especially with varied cultural norms and accepted practices. To ensure MatchCraft continues to represent our global workforce, we introduced the  DE&I and Social Responsibility Think Tank.  Employees across the globe collaborate on what initiatives are important and which work across regions to be truly impactful.
Shop Small | Shop Local: Launched in 2021, the initiative encouraged MatchCraft team members to support small local businesses in their communities in the month of July. By reimbursing team members for their purchases, MatchCraft was able to support dozens of small businesses in India, Netherlands, Sweden, Mexico, and the US.
Feedback is Key: Pay it Forward has become such a cornerstone of MatchCraft's culture that our team members actively seek out ways to support community organizations. Prompted by the limitations of pandemic restrictions and a desire to include friends and family in on the fun, MatchCraft's first virtual group Pay It Forward event came to life in October. Team members joined a virtual, employee-led, DIY workshop and learned how to transform upcycled clothes and blankets into pet toys for local animal shelters.
No Team is an Island: Utilizing the skills and unique perspectives across departments is an excellent means of broadening DE&I initiatives. People and Culture partnered with the Marketing team to participate in International Women's Day. The initiative reached across employees, industry partners, family and friends with participants pledging to support gender equality. Exploring cultures and traditions with the Taxonomy team was the focus of another successful partnership. Native Language Consultants served as virtual tour guides taking participants on a cultural tour of their home countries.
Rethinking Engagement 
The decision to go 100% remote served as inspiration to rethink previous initiatives, like Altitude, which focused on providing face-to-face team member collaboration for employees all over the globe.  Without a homebase, this initiative is no longer practical.  However, providing face-to-face interaction is still a priority.  As COVID restrictions have eased, our CEO is having small group gatherings in regions where MatchCraft has clusters of team members inclusive of Florida, North Carolina, Southern California, and the Netherlands. The small group gatherings help to foster relationships among team members, and provide opportunity for face-to-face discussion with leadership.
Centralized Information
Along with Deloitte's 2021 Connectivity and Mobile Trends Survey, which cites nearly ⅓ of respondents are overwhelmed by tech management, results from our own internal polling revealed a need for consolidation.  Transitioning to one unified virtual chat communication platform is top of the list as we look at goals for 2022.
Continued Employee Growth
More MatchCraft team members took advantage of the sabbatical benefit in 2021 than in previous years.  Part of the process includes a post-sabbatical knowledge share which exposes the entire company to what the employee learned, how it impacts the individual and how it will positively impact MatchCraft.
Along with other knowledge share initiatives, MatchCraft introduced the Career Path Panel Series, which allows team members to get to know each other's professional history and experiences at a deeper level. These panels have shown the highest participation rates throughout 2021.
Growing our leaders
Several publications outlined by The Economist cite new challenges for front-line managers in a virtual environment.  Ensuring managers are prepared to support their teams virtually was imperative as we transitioned to an indefinite 100% virtual workforce.
The weekly leadership meeting was completely revamped to include an expanded group of managers and thought leaders throughout the organization, along with a rotating chairperson.
Once a quarter we have a team-led growth and development series that includes such topics as developing leadership traits, creativity and innovation, the culture of accountability, and delegation.
The People & Culture team has also created manager training to ensure our open-door policy remains compliant and welcoming in a virtual environment.
Revamping Recognition 
Great Place to Work suggests that recognition is a key element linked to productivity, and being 100% virtual means recognition is even more important.  Spotlight Awards were introduced this year to recognize team members who go above and beyond, and the importance of continuous recognition has been re-emphasized through shoutouts during the monthly all-staff.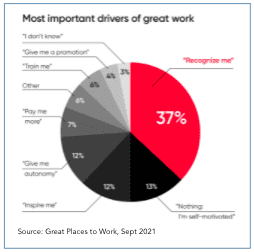 ---
Want to learn more about MatchCraft?
Request A Demo