One of the big benefits of online shopping is the ability to compare prices of different goods & services in real-time. According to the 2019 UPS Pulse of the Online Shopper study, 79% of customers consider price to be the most important factor to research before purchasing an item online.
Price extensions offer advertisers a great opportunity to bank on this trend, by giving them the ability to attract potential buyers by showing product/service prices in the search ads itself.
What are Price Extensions?
Price extensions appear below text ads on desktop & mobile devices and give you more space to tell people details about what your advertiser's business offers. Their purpose is to display the prices of an advertiser's products/services.
They show as a set of up to 8 cards that people can view to see different options and prices. From the price menu, people can go directly to the item that interests them on your advertiser's site.
Price extensions are available for text ads, only on the Search network.
Each price extensions must be attributed to one of the following 9 types:
Brands
Events
Locations
Neighborhoods
Product Categories
Product Tiers
Services
Service Categories
Service Tiers
Google and Bing have identical price extension types.
Price Extensions in adVantage
adVantage offers support for Price Extensions for search segments on both Google and Bing search networks. This feature is available by request to all reseller and agency programs.
The price extensions panel appears at the segment level, grouped with other ad extensions (sitelink, callout, etc.). adVantage can support an unlimited number of price extensions at the segment level.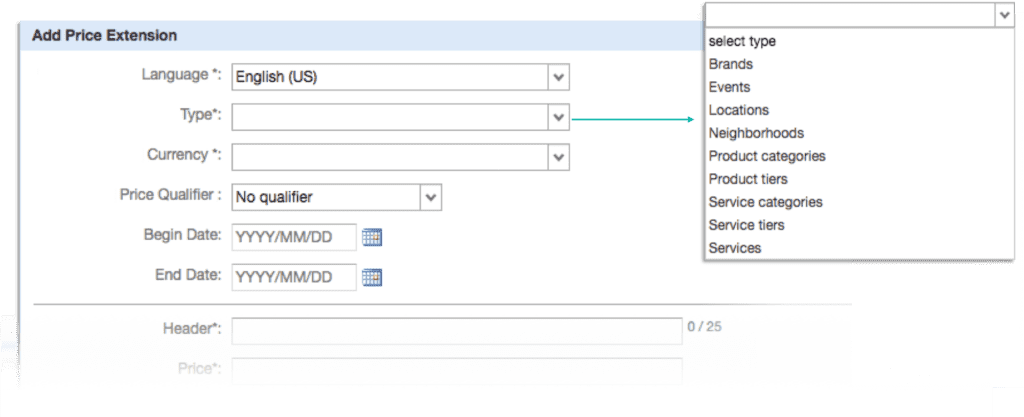 adVantage offers price extensions in not just English but these languages as well – Dutch, French, German, Italian, Japanese, Polish, Portuguese, Russian, Spanish, and Swedish.
adVantage also offers reporting support for Price Extensions via our white-labeled, advertiser facing, reporting dashboard, the Merchant Center and our PDF reports. Both include select information about Price Extensions: header, price, description, start, and end dates. To ensure that all the reported data is up to date, the reports do not display details about expired Price Extensions.
Additionally, adVantage's Roar API supports Price Extensions as well.
Benefits of Price Extensions
More SERP Real Estate –  In the past we have talked about how adding extensions gives your advertisers' ads more space on SERPs and how having more visibility means more potential for clicks. With Price Extensions, campaign managers can add up to 8 price extension items to their advertisers' ads.
Interactive Ad Format – Price Extensions give campaign managers the option to display their advertisers' business offerings in an interactive format. These extensions are displayed in a carousel format and users can scroll through them.
Conversion Shortcut – Price Extensions are a good way of not just displaying product prices but also adding direct links to product pages on your advertisers' sites. Having links to the desired products available directly on the SERPs encourages users to click through and thus, convert.
Scheduling – Price Extensions can be provisioned with start and end dates. So, if your advertiser is running a time-specific promotion, Price Extensions are a great way to promote it.
Flexibility – The ability to schedule price extensions also means that campaign managers have the flexibility to decide which products/services and prices are displayed, based on factors such as seasonality.
Qualified Clicks – Price conscious customers who click through to your advertisers' websites via the specified Price Extensions will already be primed to buy, as the most important aspect of their decision-making process will have already have been addressed.
Best Practices
Optimized Merchant Website – Since Price Extensions link directly to the merchant's website, it's important to ensure their site is optimized for both desktop and mobile viewing.
Routine Checkups – Because prices are rarely 'evergreen,' campaigns that make regular use of price extensions should be checked and updated on a regular basis.
Optimum # of items – Each price extension can have a minimum of 3 items and a maximum of 8. Google recommends at least 5 items for the best results.
---
Want to learn more about MatchCraft?
Contact Us