Social advertising is impactful, undoubtedly. Every day 300 million photos & 8 billion videos are uploaded to Facebook.
So, in this massive ocean of content, how can you make your advertiser's brand stand out? By advertising on Facebook & Instagram!
However, provisioning ads on social platforms like Facebook & Instagram is just the first step in the process of successfully promoting your advertiser's products/services.
Next comes the process of continuously optimizing the social ads to get maximum return on investment for your merchant. But optimization can be tricky and a massive time commitment for a campaign manager managing multiple advertiser accounts.
In our discussions with our reseller, and agency, clients we realized that many of their campaign managers were spending a lot of time manually optimizing ad creatives and audience settings. And thus, they were unable to either manage a large number of accounts or give the same amount of attention to each advertiser's campaign.
Social Ad Optimization
To help our reseller and agency clients optimize their social campaigns, in a time and cost-effective manner, adVantage offers two optimization options for social campaigns:
One-Click Optimization
Within about 15 seconds, One-Click Optimization performs dozens of optimization steps – steps that would take a campaign manager hours to complete, if done manually.
To check your advertiser's campaign for optimization opportunities click the "Get Recommendations" link.
adVantage will then analyze the data for 6 different dimensions of each of your ad sets:
Age
Gender
Device
Time of Day
Placement
Ad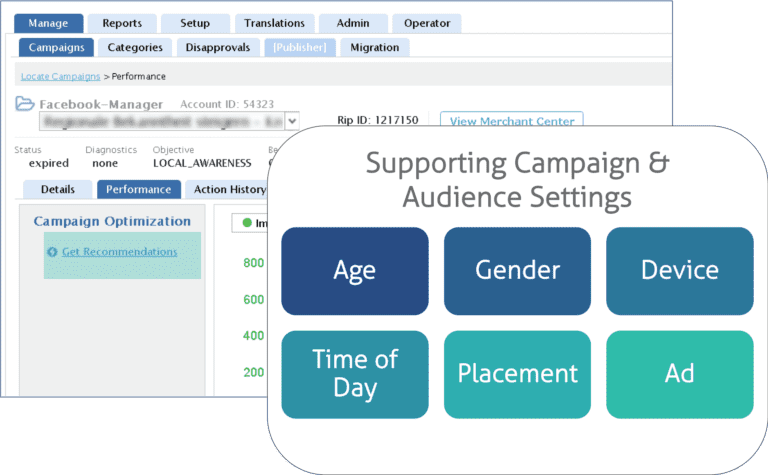 After the analysis is complete, a dialog box will appear containing a table for each ad set with a corresponding recommendation.
The "Recommendations" column shows the action, type of change, and the current setting. Values in the "New Settings" column indicate the resulting change that will occur if the recommendation is applied.
The campaign manager may select just one or all of the given optimization recommendations. Once selected, the changes are executed immediately and applied to the advertiser's Facebook campaign.
This is a campaign-level feature.
Social Automated Ad Optimization
This setting can be enabled/disabled at the program and campaign levels.
Once enabled, adVantage will automatically analyze ad sets with 3 or more ads and pause those that are not performing well. This eliminates the need for a campaign manager to review ad performance data and make changes manually.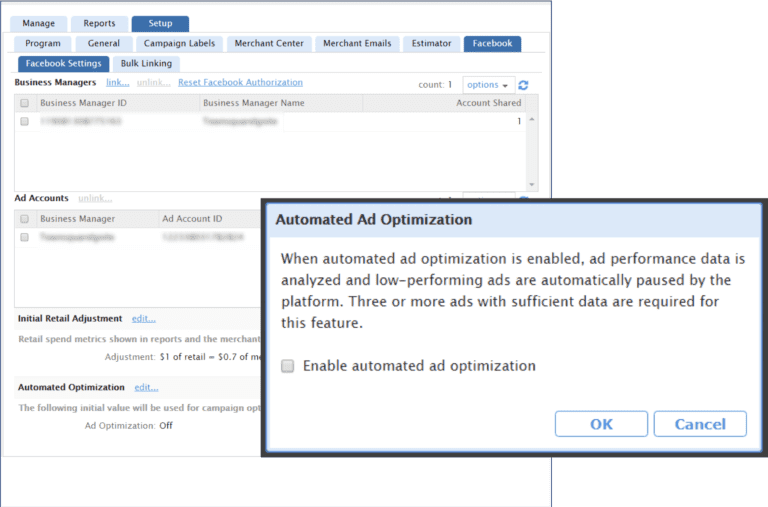 To ensure that the advertiser's social campaigns are always fully optimized, each day the platform automatically analyzes data to identify and pause low performing ads.
Note: Automated optimization only performs ad optimizations, not audience targeting optimizations. Both One-Click Optimization & Automated Ad Optimization can be used concurrently. 
Benefits of Automated Social Ad Optimization
Low Costs, High ROI – Who doesn't like to get more clicks for a lesser ad spend? Optimizing ads to ensure correct placement and targeting will help your campaigns perform better, resulting in a higher ROI.
Higher Relevance Score – Continuously optimizing ads to ensure that they are relevant for your target audience will ultimately result in your ads getting higher relevance scores. The benefit – higher your relevance score, higher the likelihood of your ads being displayed to your target audience.
More Time, More Campaigns – Optimizations that would take a campaign manager hours to research and implement, can be done in a matter of seconds. Leaving more time for campaign managers to focus on campaign strategy for multiple advertiser clients.
---
Want to learn more about MatchCraft?
Contact Us