With more than 2.8 billion monthly active users, it is undeniable that paid ads on Facebook are a key component of local marketing for SMBs. Using MatchCraft's social solutions, resellers and their advertisers benefit from the reach and connectivity of Facebook and Instagram plus the features and functionality that make AdVantage Social even stronger than placing ads directly through Facebook.
Advantages for campaign managers:
View and manage social campaigns alongside adVantage-managed search, display and remarketing campaigns.
Program-level, cross-account views of diagnostic information, disapprovals and performance.
Provide advertisers with a simple, easy-to0use summary of a campaign, including ad previews, targeting settings and performance data.
Initiate and view pending and accepted requests for page access across your entire portfolio.
Manage campaigns budgets using automated, multi-channel Budget Management tools native to AdVantage using Social Express.
Advantages for sales teams:
Integrated social estimator tool provides sales reps and advertisers insight into the potential of the campaign.
Using the data generated by the social estimator tool, sales reps can quickly generate a Proposal PDF to send to their prospective advertisers.
Once the sale is complete, the proposal can automatically generate a campaign reducing the touchpoints in the operational process and reducing the risk of human error during order entry.
Advantages for advertisers:
Running a paid search and paid social campaign together in the same platform provides the advertiser with a unified report that highlights metrics most meaningful to a local advertiser.
The powerful algorithms native to AdVantage can identify optimization opportunities within paid social campaigns that can improve the way a social budget is spent
Lead Dashboard & Notification makes it easy for advertisers to see and respond to leads generated by their leads objective campaigns.
Social Estimator used in the sales process gives advertisers insight into the potential of their campaign.
MatchCraft's award-winning Merchant Center reporting provides access to campaign performance across search, social, display and remarketing campaigns.
Side-by-side comparison of AdVantage Social features and the features found when managing directly in Facebook.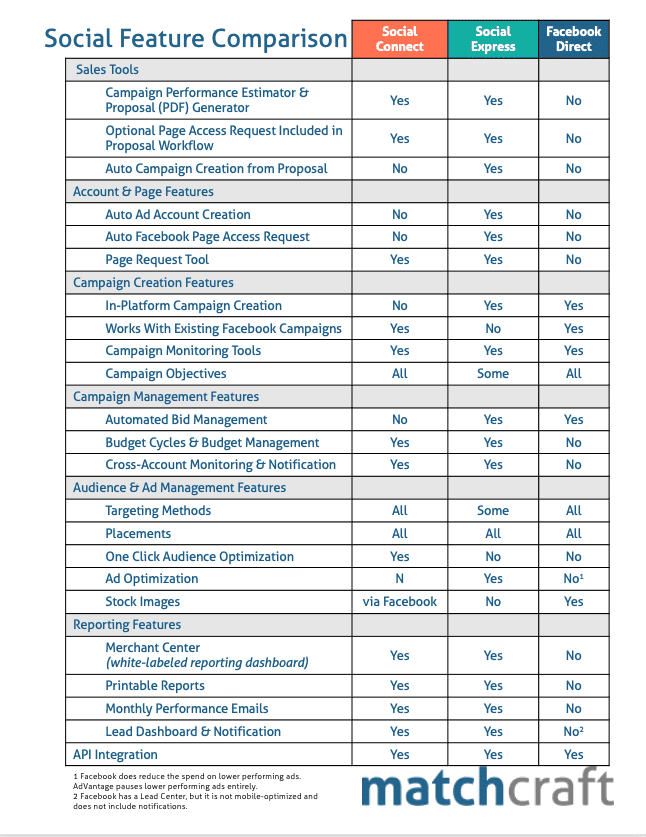 MatchCraft's team of social experts can help you make the most out of your advertisers' campaigns. If you're ready to learn more about AdVantage Social, request a demo or reach out to your client engagement team.
---
Want to learn more about MatchCraft?
Request A Demo