Resellers and agencies have many options when it comes to carefully utilizing and maximizing their advertisers' online spend. They can choose to advertise on Search and Display networks such as Google and Bing, go the social route using Facebook and Instagram, use any other combination of these networks or advertise on them all.
Simultaneously advertising on a variety of networks can lead to 2 major challenges for resellers/agencies:
Tracking and reporting campaign results to their advertiser clients – Advertisers are often unaware of how their marketing budgets are being spent. To get the most basic of details, such as the keywords being used to target their campaigns, these merchants have to contact the resellers. This routine back and forth affects productivity on both the reseller's and the merchant's end.
Helping the advertisers understand the opportunity and impact of that advertising – Reviewing campaign metrics in the format and detail necessary for campaign managers, can be overwhelming for advertisers.
adVantage's Merchant Center has been designed keeping all the above needs in mind. The Merchant Center is an easy-to-use, interactive dashboard that gives you unmatched visibility and control over your advertisers' campaigns.
The Merchant Center
It is a white-labeled dashboard that can be shared with merchants. Through its dynamic reporting dashboard and emailed performance reports, the Merchant Center helps SMBs/advertisers make sense of campaigns that may include:
Search (Google, Bing)
Display and Remarketing (Google Display Network)
Shopping (Google)
Social (Facebook, Instagram)
It provides a clear view of key metrics associated with an advertiser's campaign. A summary section graphically presents key, cross-channel (if applicable) campaign metrics. These metrics are automatically supplemented with the following compelling metrics when available:
Conversion metrics such as calls, transactions and goal completions.
Social metrics such as reach, likes, and audience breakdowns.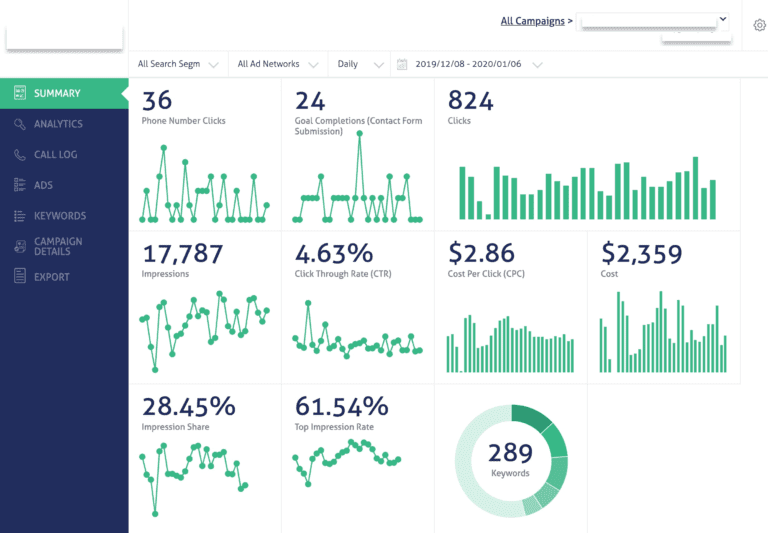 It is ready for reseller/agency use out of the box and can be configured using adVantage's setup tools.
Benefits of the Merchant Center
Review Cross-Campaign Summary – Cross-campaign summary allows the Merchant Center to better serve advertisers (and resellers/agencies) with multiple campaigns. The summary provides an overview of common performance metrics across campaigns on multiple channels.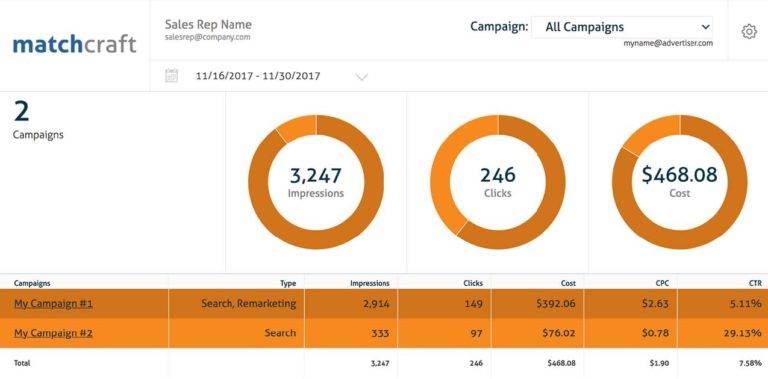 Call Reporting – Listen to and review tracked calls* (where available)
Ad Preview – Preview ads as they will appear on Google, Bing, Facebook, and Instagram. Also, review the performance of specific social ad variations.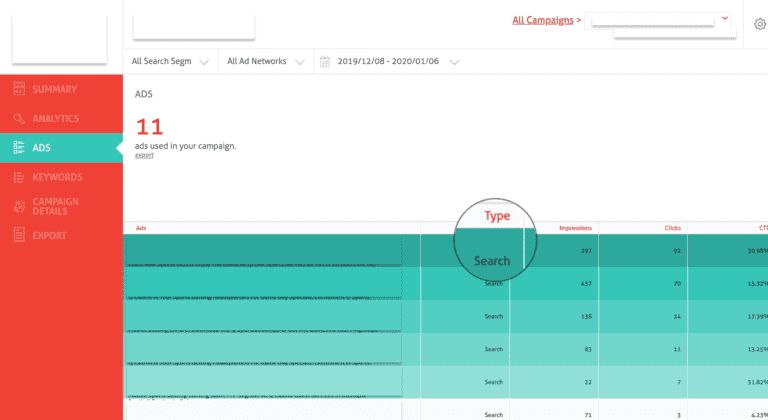 Keyword Performance – Examine the performance of the keywords being used.
Overall Summary – Review a summary of the overall campaign settings.
Performance Emails
Complementing the online Merchant Center are configurable performance emails that can be sent for each campaign. Performance emails are white-labeled and share the same look-and-feel as the Merchant Center.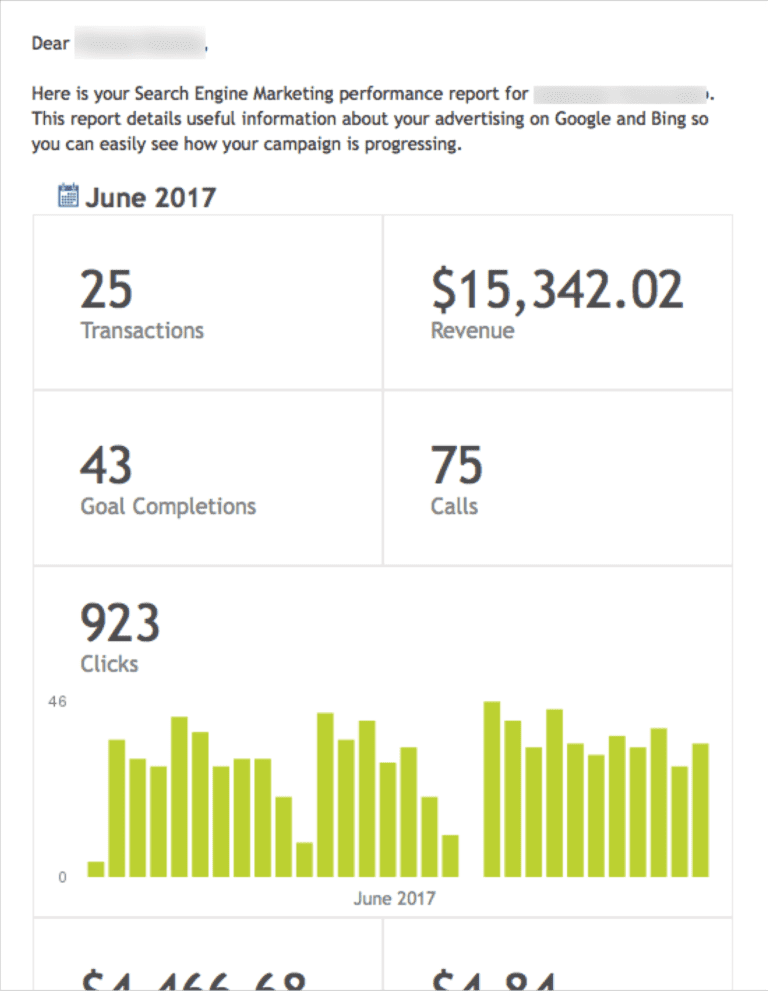 An adVantage setup tool allows resellers to easily configure performance emails by editing text and selecting which metrics to include.
Together, adVantage's Merchant Center and performance emails offer SMBs a clear view of the impact their campaign is having. Both are ready for reseller/agency use out of the box or can be configured using adVantage setup tools.
Transparency
Transparency in reporting helps both resellers and merchants.
When merchants are able to see the benefits of search, display, and social advertising first hand, it leads to greater involvement and increased trust in the capabilities of not just the resellers but also online advertising as a whole.
This transparency also makes merchants feel more comfortable about increasing their investment in online paid advertising.
Impact
Year over year, we continue to see an increase in the number of campaigns that include ROI metrics.
From Jan 2019 to Dec 2019, we saw an over 116% increase in the number of campaigns with goal completion data.
Having access to campaign performance information in a user-friendly format enables our resellers to more transparently convey the impact of campaign ad spends to their merchant clients.
What Advertisers Have to Say
"Other than a website, we had a very small footprint online. Fast forward 5 years, and now we have greater visibility and get numerous trackable calls every month. The whole team works behind the scenes to fine-tune and improve the campaign. We have access to an online platform that we can listen to phone calls, see analytics, keywords and our budget allocation. The whole process is very transparent."

Carley Lorditch
Office Coordinator
Handyside Plumbing, HVAC & Electrical
* MatchCraft has taken the necessary steps to ensure that our products are CCPA compliant..