Customers today want products and services to be available at the touch of a button. Adding call-in information in ads is a great way to fulfill that need. However, just drawing in customer calls is not enough; to fully understand and subsequently, maximize the potential of paid advertising, it is important to assess both the quantity and quality of leads coming in. This is where Call Tracking comes in!
Call Tracking & The Need For It
Call Tracking is a technology that enables the tracking and recording of customer-initiated phone calls.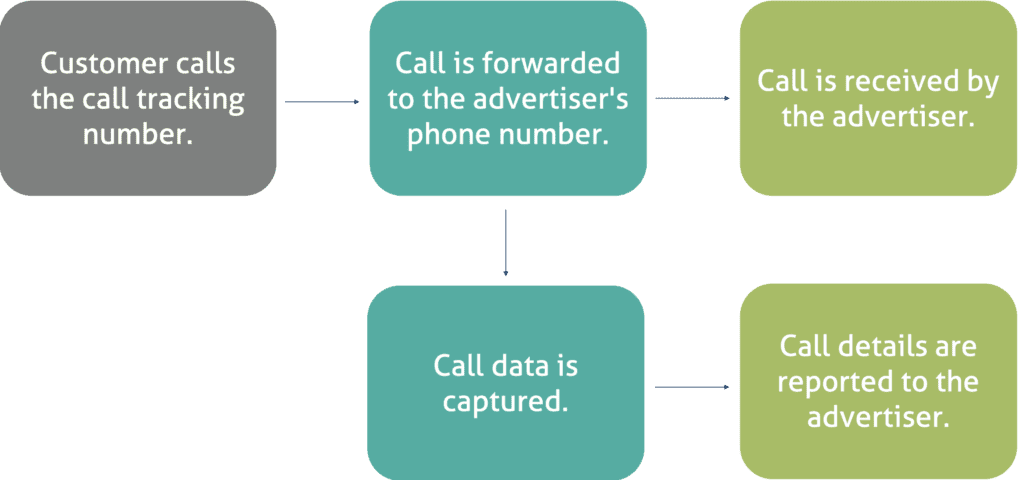 Call Tracking numbers replace original phone numbers everywhere where a phone number can be displayed during a PPC campaign on desktop, mobile and tablet devices.

The placement of the Call Tracking numbers in ads serves the following purposes:
Makes it easy for potential customers to contact the advertisers.
Helps campaign managers gain visibility into the number of captured leads.
Makes it easy for campaign managers to report campaign results in an easy to understand and measurable manner.
Enables the advertiser to listen to recordings of the incoming calls.
The tracked phone calls provide our adVantage platform with actionable analytic information for performance driven advertising.
How It Works
The adVantage platform provides an integrated, & easy-to-use, Call Tracking solution.
To start tracking calls in the adVantage platform, our reseller and agency clients can either specify their own replacement numbers for their advertisers or use our Dynamic Number Replacement Functionality.
Our platform also gives campaign managers the option of recording incoming calls, the results of which are available in our white-labeled, Merchant Center.
Note: Call recordings can be accessed by the merchants only. 
Dynamic Number Replacement (DNR)
MatchCraft's Dynamic Number Replacement (DNR) solution offers vanity number replacement – it allows a Call Tracking number to replace one or multiple phone numbers (text only, no image replacement) directly on an advertiser's website.
DNR can be implemented for campaigns that use Search, Display, Remarketing, Inventory, Shopping and Social Express Segments. It uses a JavaScript tag, placed on the merchant's website, to replace the numbers.
Below are a few benefits of adVantage's DNR:
It is fully compatible with secure websites (HTTPS).
Once installed it becomes active in less than 2 hours.
No additional fee on top of the Call Tracking number fee.
Multiple number pool.
Single click health check and fast diagnostics.
Can verify Call Tracking numbers for call-only ads.
Website visitors from adVantage campaigns will see the Call Tracking number on the advertiser's website for 30 days.
Matched Calls – Campaign Optimization Using Call Tracking Data
One of the biggest benefits of using MatchCraft's Call Tracking solution is adVantage's ability to take the customer data and use it for optimizing campaigns.
It "matches" calls with keywords and categories based on the time at which a call occurs. The specific algorithm is proprietary and is based on an analysis of call and click data from several thousand campaigns. By linking keywords to phone calls, adVantage is able to automatically optimize bidding to generate more phone calls.
The matching algorithm also helps in attribution – it may give a keyword partial credit for generating a call. The number of calls, matched to a keyword, are reported in MatchCraft's fully customizable, advertiser facing, Merchant Center.
Call Tracking Reporting in adVantage
MatchCraft offers detailed reports on calls tracked via the Call Tracking solution. This data is available both inside the adVantage platform and via our Merchant Center.
Benefits of Call Tracking in adVantage
Tracking & Understanding the Leads – Many businesses rely on phone calls to handle incoming leads, especially in current times. Therefore, it is important for the business owners to be able to measure the impact of their ad spend by evaluating the # of calls received. Additionally, the call recordings can help the merchants tweak their customer messaging/interactions to enable them to better convert leads to customers.
Easy KPI Reporting – Since calls are such an important Key Performance Indicator (KPI) for merchants, being able to provide tracked call data to them in a quick, and easy to understand format makes campaign reporting that much easier for our resellers' and agencies' campaign and account managers.
Greater Transparency – The availability of Call Tracking data in our advertiser facing Merchant Center facilitates increased communication between the advertiser and the campaign manager, leading to greater transparency.
Cost Per Lead (CPL) and Return On Investment (ROI) Calculation – Tracking the number of calls generated along with the total ad spend, makes it possible to accurately calculate CPL and ROI.
Campaign Optimization – Call Tracking data is attributed on the keyword-level and is utilized by adVantage's bidding algorithm to automatically optimize bidding for keywords. This optimization leads to more phone calls with better ROI
Call tracking a great tool for measuring the impact of your advertisers' ad spends. And in current times, where businesses are relying heavily on incoming customer calls to generate new and repeat business, call tracking has become a must!
---
Want to learn more about MatchCraft?
Contact Us