It's the year we've been anticipating—we officially turn the ripe age of 20, and we plan to celebrate it all year long!
For any technology company, the first few years are a challenge of its own. Just surviving those early days is worth celebrating (at the very least, it's worthy of a happy hour cheer).
Being legitimate five or 10 years later is a triumph. And, well, making it to 20 years screams for an all-out block party! We're not sure we're going to get that last one, but we're doing our version of a football dance in the meantime…
The idea of a real-time exchange
MatchCraft first began with the spark of an idea: to be a real-time exchange between buyers and sellers.
When the company was founded in 1998 in Santa Monica, our three founders weren't sure yet what that exchange might be. Power or energy resources? Diamonds? Aircraft parts? The opportunities to put buyers and sellers together by leveraging the power of data was endless.
Our founders, Dorab Patel (left), Scott Kalter (center), and Uzi Eliahou (second from right), settled comfortably within the advertising space.
In the late '90s and early 2000s, search engine marketing (SEM) was on the verge of bursting. It didn't take long for those three to realize that they were on to something, an area where they could offer real value to customers who were frustrated with the one-sided nature of the business. (Oh, and Uzi was an expert in the online advertising domain, so that helped shove us in the right direction).
At the time, advertising was still done by buying and selling ad space for banner ads. Many companies played in this space, ones that are no longer around today or no longer innovating, such as LinkExchange, DoubleClick, Commission Junction.
The very first prototype of our exchange was called Alpha.
The concept was that buyers of ad space (advertisers) could make offers and sellers (publishers) could review the offers and choose the ones they wanted to run on their site. This was the reverse of the usual situation, where publishers would provide rate sheets for their space.
We sought to build something where advertisers and publishers could share the risks and rewards. An advertiser's offer could be a combination of compensation for impressions, clicks, and post-click activity.
As for publishers, they could look at the past performance of advertiser's offers when choosing the ads they wanted to run. This allowed publishers to look for sellers that had a good track record of paying and properly measuring post-click activity.
Advertisers could start out paying purely by impression until they built a track record and then shift the compensation more towards clicks or post-click activity.
When you consider that foundation, the "Match" part of our name becomes instantly more intuitive: we were built on the idea of matching buyers and sellers. The "Craft" part is a nod to the long hours and sheer sweat that went into building a complex system that could handle these types of matches at scale.
So—while we still get confused with modern dating websites—we're quite satisfied with the way the brand "MatchCraft" has stuck by us through these years!
Leaders every step of the way
In these 20 years, we've survived two brutal dot-com busts and all the other ups and downs: changing customer expectations and needs, advertising systems increasingly becoming more complex, and an online advertising market that continues to evolve at a head-spinning pace.
We were one of the very first companies to work with post-click events.
We were the only system in existence that truly worked with real-time data. And, we were the first to put the concept of eCPM ("effective CPM") to use, allowing us to compare offers that were priced differently, such as comparing a CPA offer to a CPC offer.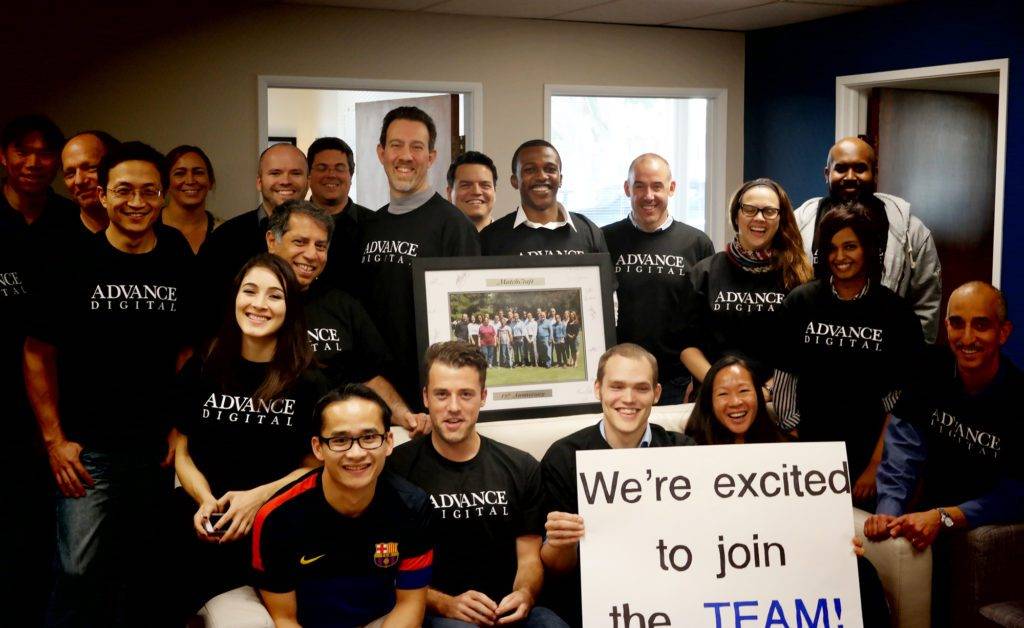 Each one of these firsts didn't just validate our expertise in this area; it continued to push us forward in a crowded market place, and continued to provide the momentum we needed to grow and thrive.
And so, here we are, 20 years later. We are no longer a startup or even an early stage company. But we are a technology company at heart, one crammed with the most enthusiastic, dedicated team in Silicon Beach.
And while the days of mulling over diamond exchanges or aircraft parts are long behind us, we can't help but feel pretty darn rich and happy in this moment.
Stick with us. The future of advertising is ours to make. But first, birthday cake.
(Priorities, priorities).