Another few weeks and we will be in the new year. But before 2020 is officially over, we want to take a quick look at the year that was.
This year our incredible team, powered through all the hurdles that came across as a result of the pandemic and, was able to offer 7 product releases to our reseller and agency clients. These 7 releases added 59 new features to our adVantage platform!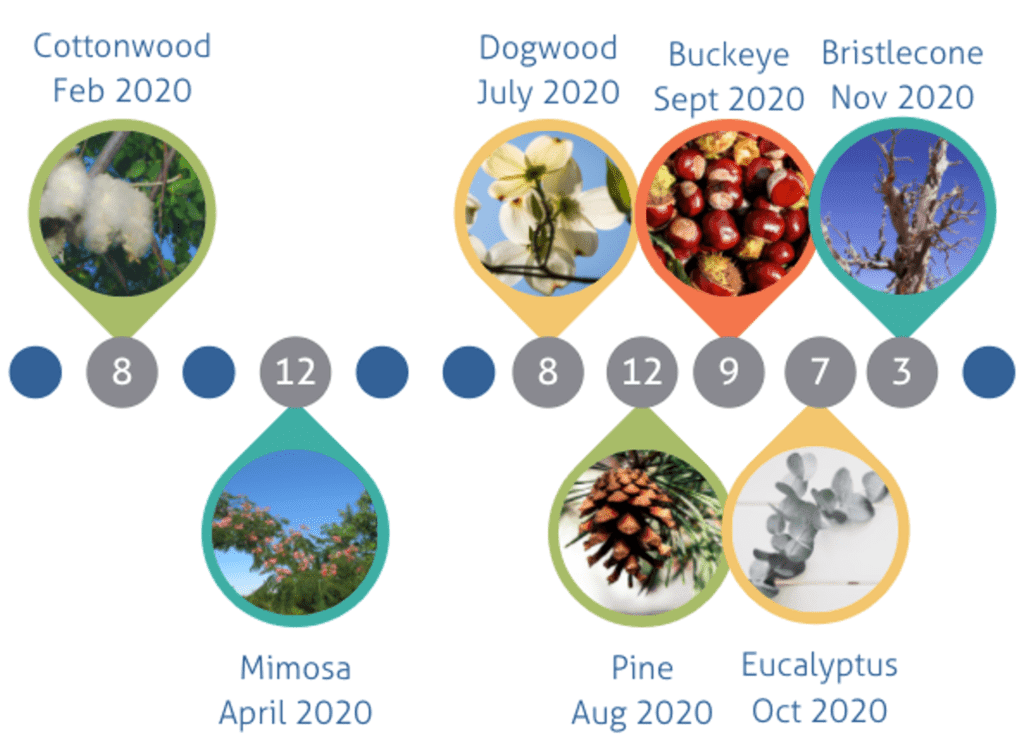 MatchCraft's 2020 product release timeline. Numbers in the grey circles indicate the number of features included with each release.
Below is a list of some of our most notable platform enhancements in 2020.
Paid Search Enhancements
Automated Responsive Search Ads – Google's Responsive Search Ad format enables advertisers to provision up to 43,680 different ad variations at once. But setting up RSAs can be a time guzzling endeavor. MatchCraft's adVantage offers resellers and agencies the ability to automate the creation of RSAs via its Automated RSA offering. An Automated RSA utilizes proprietary MatchCraft technology that allows Responsive Search Ads to be quickly created at scale using headlines and descriptions from existing Expanded Text Ads (ETAs). Based on MatchCraft's own testing, the Automated RSA feature saves campaign managers an average of 23.35 minutes per campaign.
Sitelink Suggestions – Sitelinks are ad extensions that allow advertisers to include additional links to pages on their websites. These extensions can be added to the ads being provisioned on search networks such as Google & Bing. According to Google, sitelinks can increase the average CTR by 10-20% on general searches. But when managing multiple advertiser accounts, with several ads in each, it can become time-consuming and cumbersome for our reseller and agency clients to add sitelinks manually. adVantage's Sitelink Suggestions tool offers a fast way to discover and input relevant sitelinks. It uses existing Final URLs as a reference point to then pull other links, from an advertiser's website, that may help grab user attention.
Price Extensions – 79% of consumers consider price to the most important factor to research before purchasing an item online. Including price extensions in ads provides the advertiser with increased ad space, improved user experience and more qualified clicks.
Social Enhancements
Display & Shopping Enhancements
Responsive Display Ads – Responsive Display Ads (RDAs) eliminate the need to build multiple display ads across various sizes. Instead, our reseller and agency clients' campaign managers simply need to provide one set of readily available assets, which are then packaged to fit any of the 20 display ad formats supported by the Google Display Network.
Support for Google Smart Bidding for Shopping – This adVantage offering automatically utilizes Google's machine learning and contextual signals (e.g., device type, location, time, and other attributes) to optimize bidding at the time of the auction. The goal of Smart Bidding is to improve return on investment for merchants and maximize conversions.
Platform Enhancements
Ability to Combine Platform & Custom Taxonomies – adVantage now supports the use of both multiple platform taxonomies (shareable taxonomy managed by MatchCraft ) and a custom taxonomy (client-specific and non-shareable ) in a single program. Being able to utilize both types of taxonomies in the same program allows resellers to target a wider audience at scale. Advertisers benefit from targeting potential customers in different languages and using ads and keywords that are specific to their business.
Enhanced Analytics – The default attribution model used by Google Analytics, last-click attribution, doesn't always provide a complete picture of the impact of paid clicks, making it challenging for our reseller and agency clients to show an advertiser the impact of their ad spend. Enhanced Analytics offers an alternative attribution model – it not only captures the "Last Non-Direct Click" included with Standard Analytics but also, assigns credit when a click on an ad assists in the conversion; it provides "Last Ad Click" conversion attribution.
Matched Calls – This feature enables the adVantage platform to automatically reported Matched Calls as conversions in Google Ads. This is an important enhancement because the implementation of conversion tracking across an account base is a key component of Google's optimization score metric.
Merchant Center Updates – Several updates were made to our white-labeled Merchant center in 2020. The focus was on showing the highest value conversion and performance metrics such as Goal Completions, Call Data & Top Impression Rate. The enhancements also offered greater visibility into Enhanced Analytics data by introducing a separate Analytics tab emphasizing visits from paid ads (rather than keywords).
Campaign Management Reporting & UI Updates – Many campaign management reporting & UI updates, designed to increase campaign management efficacy and efficiency, were launched in 2020. Like the Interesting Query Words to our Search Query Report – designed to help campaign managers discover opportunities for campaign performance optimization.
Our 2021 Plans
We already have a lot of exciting new product & feature releases planned for 2021, below are a few of them:
Enhanced Global Estimator Tool –  We are getting ready to launch an enhanced version of our well-loved Search Estimator tool. This global version (non-US) will offer features such as Google Ads API compatibility, calculated budgets based on a percentage of overall available traffic instead of fixed amounts (currently only available in the US), ability to link estimates to campaigns & easily import settings into the campaign and language targeting.
Linking Social Estimates to Campaigns – Our Social Estimator tool was launched in Nov and has already helped several of our clients sell and upsell social campaigns to their advertisers. In 2021, an additional enhancement will enable social estimates to be linked to social campaigns, in adVantage, so that settings from the estimate can be used to create Social Express segments. Thereby, making social campaign set up even faster in adVantage.
Yelp Integration for the US Market – Yelp has helped consumers learn about, explore, and buy from local businesses since 2004. And soon MatchCraft will add Yelp as a traffic source and enable the creation and management of Yelp campaigns from within the adVantage platform. This new product will be available in the US market only.
We are ready to bid adieu to 2020, knowing that we did our best to support our reseller & agency clients and their local advertisers in the year that has been. In 2021 too we plan to stay true to our vision of helping businesses succeed by empowering digital marketing companies with our battle-tested technology and global expertise.
Happy Holidays!
---
Want to learn more about MatchCraft?