AdVantage Social helps you grow your business!
As technology and media grow, we must grow with them. Staying current and utilizing the power of social networking is very important when advising SMBs on how to grow their businesses. MatchCraft's AdVantage Social platform allows you to do just that.
Since the onset of the pandemic, media usage has dramatically increased, with an average of 7 hours and 50 minutes spent on digital media a day per person, compared to 2018 with an average time of 6 hours and 20 min. That time is expected to rise in the coming years. As consumers are becoming more acquainted with technology, they are relying on media channels and platforms to find services/products. From a business point of view, using online advertising is one of the best ways for your advertisers to reach their target audience and promote their business, no matter how small.
The MatchCraft team is always looking for ways to help our partners to operate efficiently and effectively while utilizing popular social media platforms that are already integrated into our society. AdVantage Social provides a simplified advertising experience by merging Facebook ads onto a single platform alongside search & display with easy monitoring and reporting. Considering that, as of March 2021 68% of US adults use Facebook as their preferred social media platform, using AdVantage Social is a great way to endorse your advertisers' businesses.
Social Express – With Social Express, there is no need for your team to be experts on social media. Social Express is simple and easy to use and is fully integrated into the AdVantage platform. By using Social Express, you save not only time but money too by giving your team access to automated campaign management tools and data-driven optimization as well as automated ad account creation and Facebook page access requests.
Social Connect – Social Connect allows those who are already familiar with running Facebook ads to create their campaigns directly in Facebook and link them with the powerful suite of optimization tools available in AdVantage. Automated ad optimization permits our platform to disable the lowest performing ads within an ad set while running those which are most successful.
Both Social Express and Social Connect options optimize your budget, and can be used in conjunction with multi-channel optimization. Flexible campaign management ensures you are only paying for traffic that is relevant to you. MatchCraft's performance based algorithms allocate your budget across social, search and display to achieve the best results, driving down your overall costs. In addition to MatchCraft's award winning budget optimization, your teams will benefit from an integrated enterprise level page access tool, 24/7 Merchant Center reporting, monthly performance reports and our recently released social estimator tool.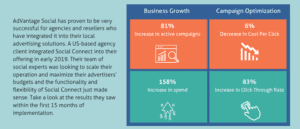 Including social media advertising into your advertiser offering has never been so simple.
If you're ready to learn more about how MatchCraft's social solutions can work for your team, request a social demo.
---
Ready to learn more about MatchCraft?