The ad blocker saga continues for advertising. As you know, ad blocking has been on the rise for some time now. And when we last updated you, we had suggested a slew of creative solutions that you could experiment with to hopefully circumvent the problem.
However, recent changes from Google have the power to change the game once again. Here are a few critical updates you need to be aware of.
Google Chrome may include ad blocker in all versions
Emphasis is on the "may" – it's not final just yet! Here's the deal: it was recently reported that Google is weighing the idea of implementing ad blocking technology into its latest Chrome rollout.
This means that, by default, ad blocking would be included on both desktop and mobile versions of Chrome.
From an ad blocking perspective, this is huge news. Chrome is one of the top browsers of choice; it's on more than 50 percent of all devices. All Devices. This change would have a crucial impact across the advertising industry.
Google's stance on ad blocking
While Google has spoken out against ad blocking in the past, it's also trying to crack down on specific practices—like those intrusive interstitials. The ad blocker would target bottom-of-the-barrel ads, that aren't up to the standards set by the Coalition for Better Ads.
According to the Wall Street Journal:
"In one possible application Google is considering, it may choose to block all advertising that appears on sites with offending ads, instead of the individual offending ads themselves. In other words, site owners may be required to ensure all their ads meet the standards or could see all advertising across their sites blocked in Chrome."
Bing also cracks down.
Google isn't the only one coming down hard on unsavory ads. According to the latest Bing Ads' Ad Quality in Review 2016 report, Bing kicked more than 100 million ads to the curb in 2016.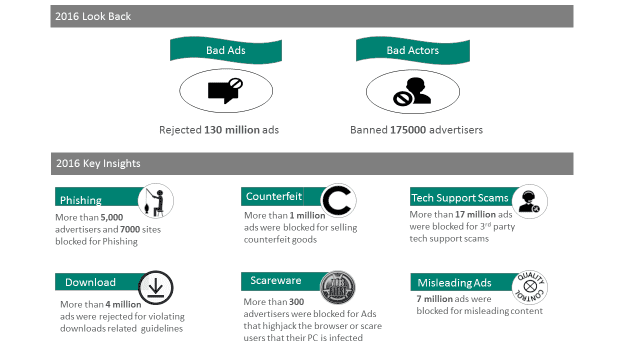 These ads included phishing attempts, ads selling counterfeit goods, pesky tech support scams, ads that violated download guidelines, and general misleading ads.
In Microsoft's words, on the importance of these ad blocking efforts:
"Online services can reach more users, at the same time anyone with internet access anywhere in the world can pretend to be an advertiser. Because of this, we put in additional effort to distinguish genuine advertisers from those who are not."
In other ad blocking news…
Video ad blocking may be experiencing the most changes of all. While most ad blocker users don't specify an ad format to block, there's been a sharp increase in video ad blocking.
Video is growing—and so, in turn, it's taking on a massive share of the percentage of blocked ads.
Video ads, though growing, have niche challenges. For example, they tend to suck up viewers' data usage, and many of them are set to auto-play the sound. Like all types of ads, video ads will need to be on their game from a quality perspective, with the aim to deliver interesting, useful content to viewers—versus annoying them. *Cringe*.
What to think of all of this?
The advertising industry has been on the edge about ad blockers for a few years now. While updates like this one may cause a bit of anxiety, it's important to remember that the industry has been fearful for a while now—this is just another change.
Yes, ad blockers are widely used, and PageFair's latest report shows that more than 600 million devices are running ad-blocking software, with the large majority—more than 60%–being mobile devices. And it's still expected to grow.
About one-third of all internet users are predicted to embrace ad-blocking by sometime this year.
Regardless of where you stand, we recognize that it's an emotional, high-stakes issue in the industry. How do you feel about these potential changes?