Q: Is it true that Google is migrating location extensions to Google My Business, and is automatically creating Google My Business accounts? Why are they doing this and what do I need to know?
---
It's one thing to catch a prospective customer's attention and garner a click. It's another thing for them to find you and interact with your business in person. The difference between the two instances could be a purchase.
Enter Google Ads Location Extensions, the handy ad extension tool that can help you guide people to your locations by sharing your address details.
Let's just say that Sam, the owner of a garden supply store, wants to draw business to his shop.
He simply has to add a location extension to his Google Ad campaign. That way, when people are searching for "lemon tree" or "spring flowers" or "garden supplies," his location information will pop up, helping searchers see just how far he is away, his exact address and even his hours.
What are location extensions?
First, let's revisit the basics. Location extensions help people find your business. To achieve this, these extensions tack on your address and a map your ad, guiding customers straight to your door.
If prospective customers wish to know more, they can just click their way to the details—which may include a phone number. You can add location extensions or remove them at any time.
The big goal: drive people to your business! Make it hit-over-the-head easy for them to find you.
Pretend you're out and about and you're just dying for a donut. When you search for "donuts near me" on your mobile device, you'll probably find donut shops leveraging the location extensions feature.
They'll hold your hand and guide you to that donut by showing you the distance to get there, the address, phone number and more.
What's this have to do with Google My Business?
To use location extensions, you'll first need to ensure your Google My Business account is updated and activated.
Google My Business (GMB) is all about helping local brick and mortar establishments get more foot traffic through the door. All users must rely on their GMB account to create location extensions and then link them to Google Ads.
Once your Google Ad and GMB accounts are intertwined, this means your business locations can be shown, along with any other text, in your ads.
Images and video are okay, too! Additionally, you may wish to assign locations to specific campaigns, ad groups, set up filters and more.
Location extensions and disapprovals
Read on for step-by-step instructions on setting up your first location extension.
Step 1: Confirm your Google My Business Account.
Are you sure that you already have a GMB account? Don't create a new one until you confirm that you don't have an account, since the set up process and verification can take some time. If you do not have a GMB account, start by setting one up here.

Step 2: Link your accounts.
You can link your GMB to your Google Ad account by signing and simply clicking on "Ad Extensions" tab. Once there, click on "Location Extensions" from the drop-down menu. Google will then walk you through a few simple steps to linking the two accounts. Once of them will ask you what the email address if for your GMB account, so have that ready.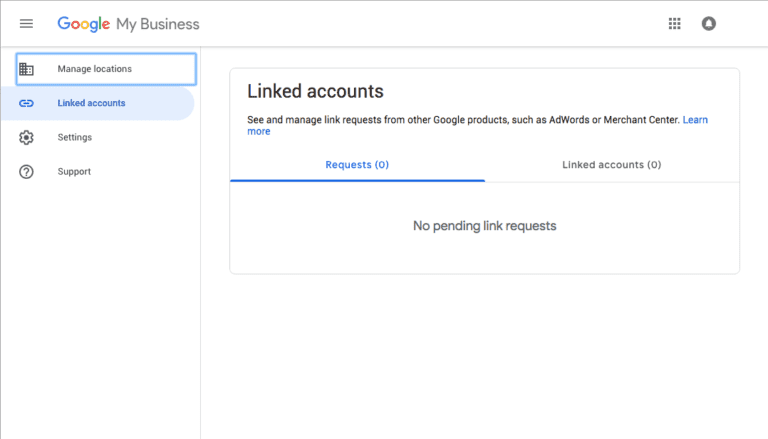 Step 3: Locations get linked to your Google Ads.
If that primary GMB email is not yours, you may need to wait a day or two to have the GMB owner to approve your request. Once the business owner approves the linking of the two accounts, you'll receive another email letting you know that it has occurred.
Step 4: Set up your first location extension.
Do this by signing directly into Google Ads and clicking on the "Ad & extensions" tab on the left panel. Scroll down and click "Create Ad Extension" and then from the dropdown list, select "+Location extension".
Step 5: Phone number verification.
Be aware, if you include a phone number in your extension, they'll be tested to ensure that they are correct.
Location extensions and disapprovals
Location extensions must follow Google Ads policies, though they are now completely managed within your GMB account. Note: it's against the Google Ads rules to promote a location without the owner's explicit consent.
When a location extension goes against the Google Ads' policies, you may get disapprovals, such as "Misleading content" (is your ad accurate? Is it descriptive of the actual business?), "Unclear relevance" (are you speaking to your product? Are you advertising the right locations?) or "Trademarks" (use proper trademarks or your ads may get removed).
Other reasons you may experience a disapproval:
Missing address components
Spelling errors
Address cannot be plotted on a map
The worst side of disapprovals: location extensions will get wiped from your ad.
MatchCraft makes location extensions easy
Sounds like a lot of work, right? Don't fret: We've made it easy to create location extensions that fall in line with Google's rules. We've added new features to AdVantage to smooth the process of creating location extensions that work.
Validate Location Extension Tool: Test your address for validity and receive immediate feedback from Google.
Optional "Latitude Longitude" Feature: Google can't plot your address on a map? No problem. Help make it easy for Google by specifying the exact geo-coordinates for them.
Updated Reporting: We've updated the Campaign Site Link, Address and Phone Extension Report to include new fields like Business Name and Latitude Longitude.
Our goal: to make it easy peasy to manage Google Ads. 'Nuff said, if you have any questions, we're here to help.