We've been receiving a ton of questions about disapprovals in AdWords and Bing. The biggest frustration: fixing disapproved ads so your campaigns can continue to run seamlessly.
But there's no reason to let disapproved ads slow your momentum. While it may be baffling—or frustrating—there is a way you can catch and correct your disapprovals in a timely manner.
What are Disapproved Ads, and why do they happen?
So, what is a disapproved ad, anyway?

Google AdWords and Bing Ads review every ad and its associated keywords to make sure they comply with the advertising platforms' policies. The goal: to ensure that the content of every ad and its targeted keyword comply with all the advertising policies.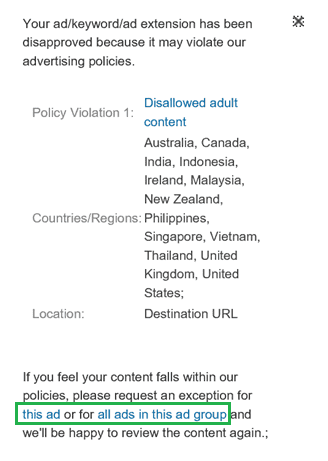 Disapprovals can happen to any advertiser in any industry.
Google's rate of disapprovals, in particular, has been on the rise this past year. There's a lot of pressure in the industry to ensure high-quality ads and to adhere to regulations (in other words, avoid ads that have illegal content or could really offend someone!).
Examples of Disapprovals
Here's just a handful of reasons your ads may be disapproved within AdWords:
Inappropriate content. You know, gambling, explosives and the like. These things are flagged as a big No-No.
Overdone claims. Does your ad claim that you're the #1 nail salon west of the Mississippi? This may be a stretch. Unsupported, outlandish claims like this are sure to be flagged. The same goes for ads with too many exclamation points. In other words, tone down the excitement!
Copyrighted content. If you're using copyrighted words, you're asking for a disapproval.
Ad copy that is too long. If your ads aren't in-line with character limits, they'll get flagged.
Incorrect business location. Make sure ads show your most recent address.
Bing has its own set of ad guidelines. In Bing Ads, your ad may be disapproved if:
You use random capitalization. For example, your ad copy says something like, "Save EXTRA this Holiday Season!"
You go overboard with exclamation points in your ad copy.
You're displaying inaccurate pricing.
If you have too few words (you need at least three).
Your ad is too similar to another ad that is currently running.
If you're using two languages within the same ad.
Keep in mind that Bing and Google have different guidelines. What works within one ad platform won't necessarily work in another. You need to tailor your ads to each.
Pesky disapprovals can happen to anyone. In general, it's not a big deal if they happen to you on occasion. However, repeat offenders risk total suspension of your ad account—and you know that's a bad thing. No ads mean decreased traffic. Decreased traffic means fewer conversions… And well, you get the drift.
Beyond the obvious traffic and conversion challenges, disapprovals can be time-consuming and, frankly, annoying. But, we're here to help with that.
What can be done about Ad Disapprovals?
If an ad you've submitted has been disapproved, you can explore why by viewing the ad's status.
In Adwords, click on "Ads & Extensions" in the menu to see the reason for disapproval. Within Bing Ads, click the Ads tab or the Keywords tab in the campaign's page. The delivery status of your ads or keywords can be found in the Delivery column.
Here are a few actions you can take to avoid another disapproval:
Check your ads for the most common mistakes such as, not having the display url in your ad matching the root domain of the destination url (i.e. landing page).
Make sure your landing pages aren't landing you in hot water. Include a privacy policy and ensure that your landing page works for users on all browsers, in all locations, and on all devices.
Make sure that you are a real business. Google is strict when it comes to ads using domains that are actually related to the business that's being advertised.
Once you've pinpointed the reason your ad or landing page was disapproved and made the appropriate changes, you can resubmit it for review. However, this can be a long and tedious process for advertisers, especially when you have to manage hundreds of campaigns.
If you're using an advertising platform, such as MatchCraft's AdVantage, the disapprovals process can be streamlined significantly. For example, all disapprovals for MatchCraft's managed clients are taken care of by our experienced Client Engagement Team. As for our SAAS clients, we provide in-depth training on disapprovals in our platform, along with how to manage many other aspects of search, display, and social ads.
And of course, every client has access to all our online resources, like Advantage's Merchant Center and Help Center.