It's no longer breaking news that more searches take place on mobile devices than on desktop computers. But this shift in user behavior also has significant positive implications for local businesses.
74% of mobile consumers used a search engine as part of the purchase research process
93% of people who use a mobile device to research products or services go on to make a purchase
More than half of mobile consumers plan to make a purchase within the hour
To capitalize on these trends, search campaigns for local businesses need to focus on maximizing click-through rates on mobile ads. We've made this easy by adding a new feature within our AdVantage platform called Mobile Preferred Ad Copy. With one click, AdVantage will automatically insert new copy into mobile ads – copy that's specifically tailored to the format of mobile devices and will boost campaign results from mobile users.

Mobile ads differ from desktop ads in two significant ways:
First, ads display differently on a mobile screen. Both mobile and desktop ads have a headline plus two lines of copy, but on mobile devices, the second line of copy is often replaced by ad extensions, which Google has found drive higher click-through rates. This means it's imperative to get the main point of the ad and strongest call to action in the headline and first line.
And second, for users searching on mobile phones, making a phone call in response to a search ad is the most likely follow-up action, since it's much easier than filling out an online form. That's why all mobile preferred ad copy within AdVantage includes a "Call now" or "Call today" call to action to encourage users to follow through.
Here's an example of a good mobile ad. Note that the second line of ad copy has been replaced by ad extensions, and the ad includes both a clear call to action to drive phone calls and a coupon offer.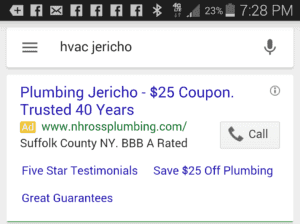 ---
Ready to enable Mobile Preferred Ad Copy in AdVantage for your advertisers? Reach out to your account manager – he or she will be happy to walk you through the process.
CONTACT US