MatchCraft's adVantage platform helps resellers and agencies manage and sell Search, Display, Remarking & Social solutions to local merchants around the world.
To ensure that our platform is not only up to date with the latest features, being offered by our Search (Google, Bing) & Social (Facebook, Instagram) partners, but one step ahead of the game, our Engineering and Product teams work diligently to modify and enhance our offerings on an ongoing basis.
Our latest product release, Mimosa, is a great example of MatchCraft's mission to always provide best-in-class platform functionality and value to our reseller and agency clients.
Below is a quick summary of 2 notable updates to our Social Connect product that our clients are already finding very useful.
Update #1 | Merchant Center ThruPlays and Breakdown of Video Views
Ask any campaign manager and they will tell you that more insight into how customers are interacting with their campaigns is always a good thing. Well, we think so too!
When reviewing performance for campaigns using the Video Views objective, adVantage users will now have access to Facebook's ThruPlay metric directly in our Merchant Center.
What is a ThruPlay? 
Facebook counts a ThruPlay when a user views your advertiser's video to completion or for at least 15 seconds if the video is longer than 15 seconds. Facebook will, as the default goal, use ThruPlay optimization to show ads to people who are more likely to watch the video for at least 15 seconds.
Why is it being included in the Merchant Center?
Having an understanding of a video's ThruPlay provides greater insight into how users are engaging with the video. In addition to ThruPlay, the Merchant Center now features a table indicating the number of users who watched: 25%, 50%, 75%, 95% and 100% of the video.
How can this information be used to improve the campaign?
If the rate of users watching your ad drops off significantly before completion, the video content may need to be revised. Make sure your call-to-action is prominently displayed at a point in the video before the drop off in viewing.
Update #2 | Lead Dashboard and Notifications
Most of the advertisers being serviced by our reseller and agency clients depend heavily on the leads generated by their social campaigns to get new business.
Facebook & Instagram Lead Campaigns provide users with a seamless means of contacting a merchant with a request for additional information. These lead ads appear in Facebook and Instagram news feeds.
When users click on a lead ad, Facebook automatically submits their contact information to the merchant. The lead forms can also be customized to prompt the user to provide additional details before submitting the lead. All this and the user never has to leave Facebook!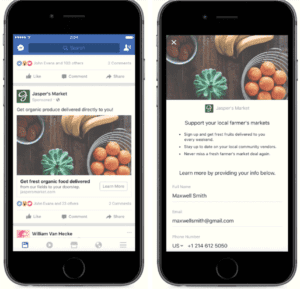 However, campaign managers & advertisers find it challenging to download lead information after it has been submitted. They receive no clear notification when a lead comes in and must manually check Facebook for new lead submissions.
But leads are often time-sensitive and failure to respond quickly can result in a lost sale.
Understanding this need, our team developed and recently introduced the "Lead Dashboard and Notifications" feature to adVantage's Social Connect product. It makes it easy to see and respond to leads generated by an advertiser's Facebook campaign(s).
Social Connect campaigns using "Leads" objectives can now notify advertisers via email when a new lead is submitted. The lead notification links to a new lead dashboard that provides a fast, easy, and mobile-optimized way to view Facebook leads.
Leads Dashboard
As a companion to the Merchant Center, advertisers now have the ability to view all the leads generated by their Facebook leads campaigns. Within a single interface, advertisers can quickly follow up with leads via email or phone and download leads for easy sharing. Date and time information, for the leads, is localized based on user preferences.
Leads Dashboard Features: 
View Leads – Browse all available leads and drill down to view details.
Action Links – Quickly follow-up with leads via phone or email.
Export Leads – For easy sharing and viewing in Excel.
Responsive Design – Optimized for layout on mobile devices.
Support for Single Sign-On – Allows advertisers using reseller dashboard platforms to access leads without a separate login.
Lead Notification
This is an optional feature in adVantage that can be used to send advertisers an email each time a new lead is submitted. Enabling this feature helps advertisers reduce the time taken to respond back to their potential customers.
Our reseller partners can customize these templated notification emails. In most cases, an email notification is sent within 5 minutes of lead submission.
We have already received great feedback on both these new Social Connect updates from our clients and their advertisers.
Our promise always has been to make campaign management scalable and hassle-free for our reseller and agency clients. And to make reporting to their advertisers as transparent as possible. And we are happy to have delivered yet again!
---
Want to learn more about MatchCraft?
Contact Us