2020 has been unexpected in many ways but the one thing that has remained unchanged is MatchCraft's drive to constantly introduce new tools and features to better help our reseller and agency clients serve their local merchants.
One of the latest feature additions to adVantage is a great example of it – the Social Estimator tool.
The Social Estimator Tool & the Need for It
When selling Facebook and Instagram campaign management services, to local merchants, our reseller and agency clients often face questions like "So, how many people will see my ads?", "How much will I need to spend to target my audience?".
The Social Estimator Tool has been designed to answer questions like these and make it easier for sales reps to sell social campaigns to prospective advertisers. It enables sales reps & campaign managers to quickly generate impression estimates for social campaigns within adVantage. The forecasted results are presented in an easy-to-understand PDF format that mirrors the Merchant Center's look & feel and can be easily shared with merchants.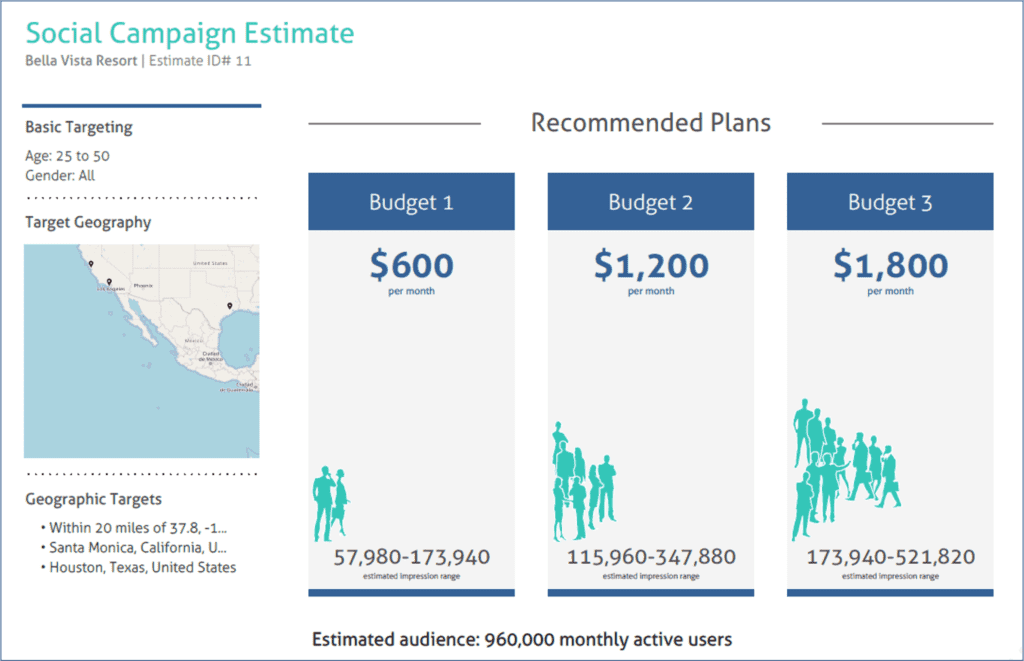 The Social Estimator tool is geared towards helping resellers & agencies scale their social offerings, as it enables the generation of estimates based on retail spend and not actual spend and offers the option to clone previously generated estimates.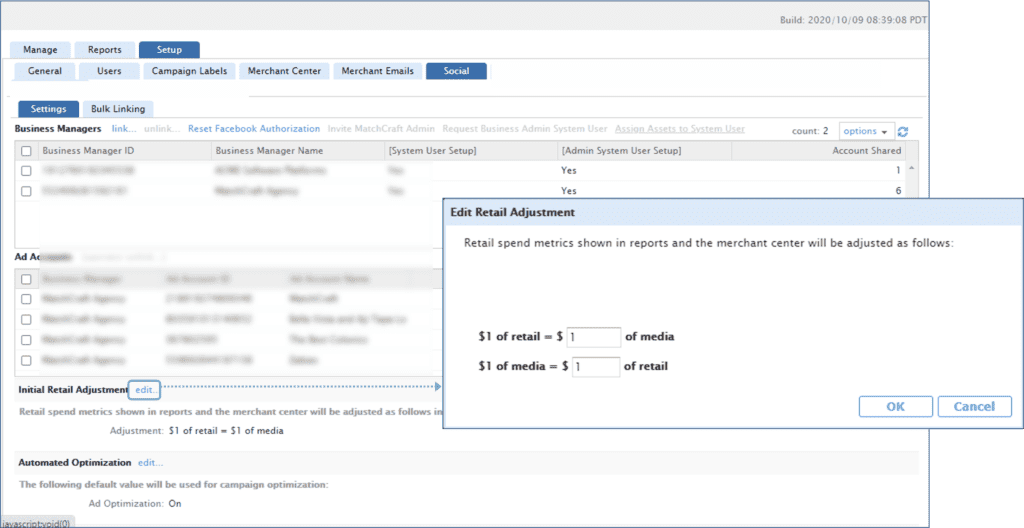 How It Works
Social Estimates can be generated by entering targeting settings such as age, gender, geographic targets & interests. Additional adVantage specific budget settings such as Minimum & Maximum Budgets, Fixed Budgets and Calculated Budgets (US only) can be defined as well. Based on the entered settings, the tool then calculates:
A range of estimated impressions for up to 3 budget levels, in retail amounts.
The maximum budget supported by the target audience. This helps ensure that sales reps do not end up selling campaigns that cannot be fulfilled (i.e. budgets being too large for the target audience).
The resulting estimates can be viewed in the adVantage platform or imported as easy-to-read PDFs for sharing with prospective merchants or for up-selling to existing advertisers.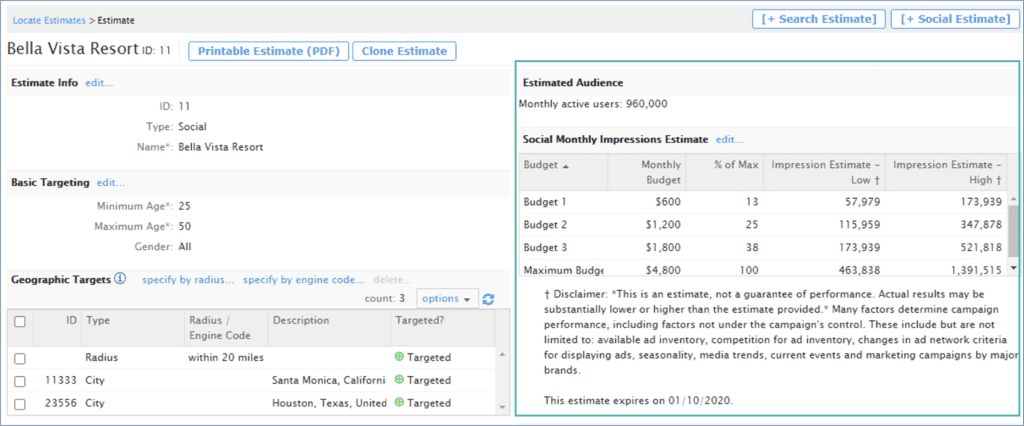 Social Estimate in adVantage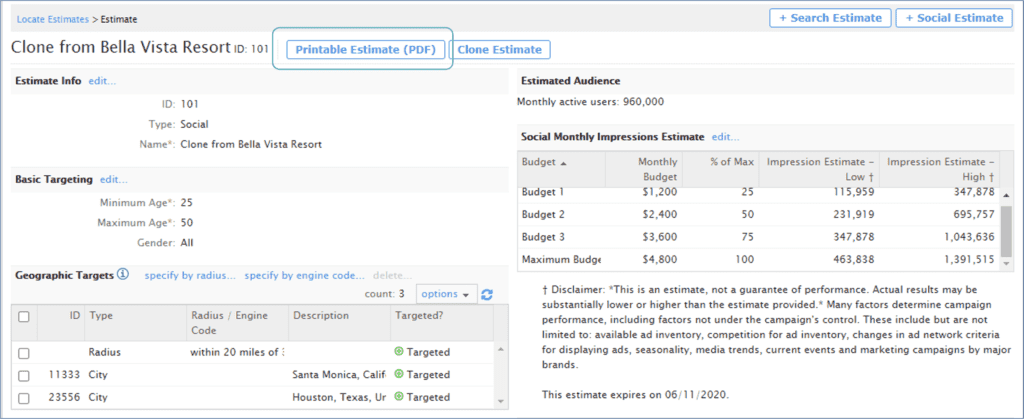 Generating a PDF Report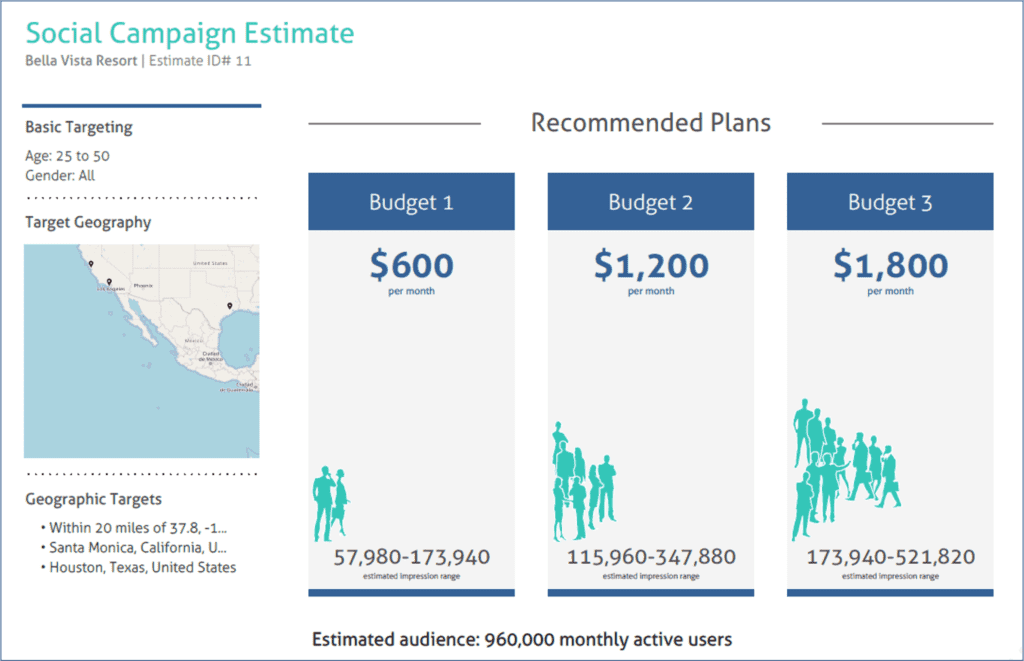 Social Estimator PDF Report
The Social Estimator can also be used to request access to the advertiser's Facebook page, reducing the time it will take to start the campaign once it has been sold.
How Impressions & Budgets Are Estimated
The estimated impressions and maximum budgets are calculated based on Facebook's estimates of audience size (based on the defined targeting settings) & historical campaign performance data from adVantage itself.
It is important to remember, and share with advertisers, that an estimate is not a guarantee of performance. Actual results may vary based on factors such as available ad inventory, competition for ad inventory, changes in ad network criteria for displaying ads, seasonality, media trends, current events, marketing campaigns by major brands and the use of features that impact ad delivery, such as placement targeting.
Benefits of Using The Social Estimator Tool
Scalability – The Social Estimator Tool makes selling social advertising more scalable by reducing the cost of creating merchant proposals. The printable PDF reports offer a time efficient way of generating and presenting pertinent campaign information such as required budgets and expected results.
Growth Opportunities – Using the Social Estimator tool is an excellent way to up-sell to existing advertisers. The PDF reports offer campaign managers the ability to visually map and present expected increases in impressions based on higher budget levels.
Transparency – A pain point that was shared by most of our reseller and agency clients was that their sales reps would often oversell campaign performance to prospective advertisers. The campaign managers would then have to manage campaigns that couldn't be fulfilled due to budgets that were too big for the specified target audiences. The Social Estimator tool was designed keeping this issue in mind. It alleviates this concern by enabling sales reps to generate PDF reports that break down the expected # of impressions at different budget levels, based on specified targeting settings. The result is a win-win situation for all, sales reps are able to set expectations from the get-go, advertisers know what they are getting for their ad spend and campaign managers are able to fulfill the campaigns.
The Social Estimator tool can be used with both our Social Express and Social Connect products. We look forward to introducing more such innovations in the year to come!
---
Want to learn more about MatchCraft?
Contact Us