MatchCraft's focus has always been on making digital advertising intuitive by providing best-in-class ad automation solutions within our proprietary adVantage platform.
MatchCraft's Automated Responsive Search Ads (RSA) are a great example of our ongoing commitment to offering digital advertising at scale to our reseller and agency clients.
What are RSAs?
The Responsive Search Ad (RSA) format was introduced by Google in 2019. It gives advertisers the most flexibility, by providing them the option to add a 3rd headline and a 2nd description. Given that the RSA ad format offers more SERP real estate than any other ad format on Google, it is a great tool for A/B testing ad variations, to show the most relevant ads to users, and according to Google, it has been known to improve ad performance by offering up to 15% more clicks.
RSAs are definitely a no-brainer for resellers and agencies looking to expand the reach potential of their advertisers' campaigns as RSAs may show up for search queries that traditional ETA's may not rank high enough for.
The Need For Automated Responsive Search Ads
Given the number of options available, setting up and provisioning RSAs can be a time-intensive task for campaign managers managing multiple advertiser accounts.
Keeping this need in mind, earlier this year, MatchCraft introduced Automated Responsive Search Ads – a proprietary MatchCraft technology that enables the creation of Responsive Search Ads, at scale, using headlines and descriptions from existing Expanded Text Ads (ETAs), in the adVantage platform.
It completely automates the process of setting up and provisioning Responsive Search Ads. Once the ads have been provisioned, the adVantage platform will automatically update them to reflect changes made to the source data, thus eliminating the possibility of outdated information showing up in the ads.
The Automated RSA feature is meant to take extra work off of the plates of campaign managers, enabling them to efficiently manage multiple advertisers' campaigns at scale and dedicate more time towards the strategic direction of the accounts being managed by them.
Benefits of Automated RSAs
Time Efficient – adVantage's Automated RSA feature enables resellers and agencies to automate the set-up, provisioning & ongoing management of RSAs. Thus, saving precious, billable, campaign management time. Based on MatchCraft's own testing, the Automated RSA feature saves campaign managers an average of 23.35 minutes per campaign.
Scalability Friendly – Automated RSAs enable campaign managers to implement RSAs for multiple advertiser campaigns in a scalable and efficient manner.
Optimized Ad Copy – Utilizing proprietary technology, Automated RSAs enable the creation and provisioning of RSAs from existing headlines and descriptions pulled from MatchCraft's adVisor taxonomy or custom generated ad copy by our, reseller and agency, clients.
Updated Ad Content – To ensure that RSAs provisioned via adVantage, using the Automated RSA feature, always reflect up to date information about a merchant's business, adVantage automatically pulls data from the merchant source. Thus, saving campaign managers the hassle of having to constantly check and update ad content.
Cost Benefit – For many of our clients, the need to stay current with the latest ad formats comes with a significant price tag in terms of the cost of labor needed to create and manage thousands of ad variations. adVantage's Automated RSA feature is both time efficient and scalable and is provided to MatchCraft's clients at no additional cost.
Bulk Setup – Clients who have used the Automated RSA functionality in tandem with MatchCraft's bulk editing tool have been able to save hundreds of hours in campaign set up time. For example, a Belgium based MatchCraft client was able to create RSAs for 600 campaigns at once by turning on Automated RSAs in bulk for existing campaigns. An operation that would have taken 233 hours, only took about 5 minutes to complete.
Automated RSA Adoption
adVantage's RSA feature was well received by MatchCraft's reseller and agency clients. Since its launch in February 2020, we have seen a steady increase in feature adoption.
Below are some stats that shed more light on the success of Google's RSA ad format (in adVantage) and adVantage's Automated RSA feature.
All the above stats illustrate a positive feature adoption trend which is a testament to the effectiveness of Google's Responsive Search Ad format and MatchCraft's Automated RSA feature.
Automated RSA Adoption Success Story
A Europe based MatchCraft client successfully implemented Automated RSAs on a subset of its campaigns in order to test the effectiveness of the tool. The test proved to be so successful that now they have RSAs enabled on more than 8,000 campaigns, via adVantage.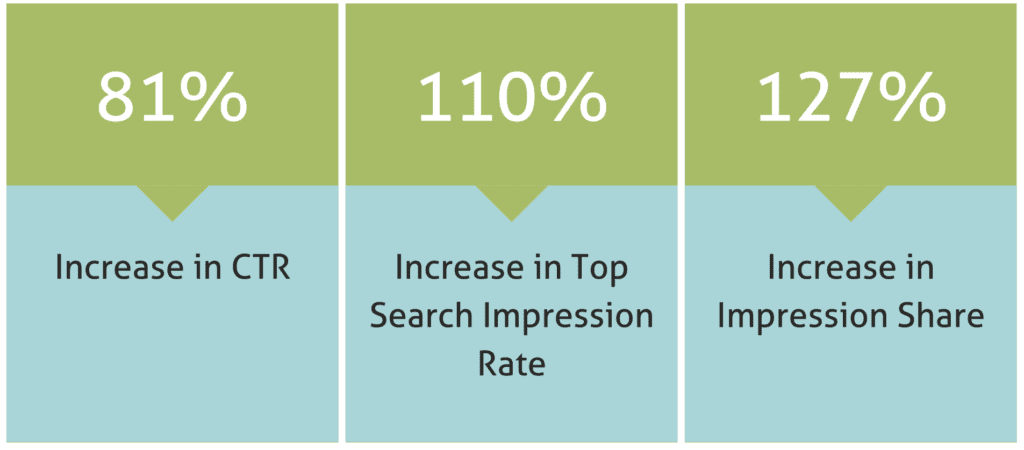 MatchCraft has yet again delivered on its promise of providing market-forward and award-winning technology to our reseller and agency clients.
---
Want to learn more about MatchCraft?
Contact Us