Do you feel constrained by your current ad—wanting to give viewers more information about your company, product, or how to get it in their hands? Well, ad extensions are your ticket to achieving this goal of delivering additional details.
Ad extensions aren't just a nicety—they deliver ROI, too. In fact, Google reports that extensions can "typically increase an ad's click-through-rate by several percentage points." So, ads that leverage extensions tend to have greater visibility, increasing viewer interaction.
That's a big deal when you're spending time and big bucks to drive traffic to your business! And the icing on the cake: ad extensions are free to use.
How Extensions Work
Ad extensions are set up to help your ads perform as best as they can (our ad platform, AdVantage is set up that way, too – we'll get to that later).
Through ad extensions, you can "extend" your ads to include additional tidbits, such as links, call details, your website and more.
While you can set up extensions on your own, we've designed our AdVantage platform to help resellers create extensions in bulk, so they can easily manage and scale ads for their advertisers. Knowing this, it's a good idea to power up your extension ammo from the start, and have as many set up as possible.
But just because you create extensions, it doesn't mean they'll show up every time your ad is shown. Extensions will only be shown when it looks like they will help your ad perform better, or when your Ad Rank is above the minimum level.
Different types of ad extensions
There are several types of extensions to choose from. The following extensions are all offered directly in MatchCraft's ad platform, AdVantage. Our goal: to help you easily set up, provision and optimize, ads for your clients.
1. Call extensions
A Call Extension adds a phone number to your ad. This has been shown to drive an increase in clicks and thereby calls; it allows people to call you directly by clicking on the ad. More customer engagement, more conversions, right?
Pro tip: Use the call extension function to add a number versus placing a number directly in your ad. Directly adding a number to your ad can lead to a disapproval. Once the extension has been added, your phone number will show up as a "click to call" button. It is imperative to have the same phone number listed on your website as well.
Other things to note about call extensions: you can also show business hours—when you're actually free to take calls. And clicks to call are counted as a regular 'ole click. It'd also be a great idea to pair this up with call tracking.
2. Call out extensions
Call-Out Extensions give you flexibility. It's an option for you to use when you want to add just a bit more detail to your ads.

This is especially helpful, for example, if you have a special sale running, an offer code or some other type of limited-time information.
Keep your extension content short (think "bullet point" for efficiency). Also, be as detailed as possible so customers are informed and in the know before they click.
3. Location Extensions
Let customers know where you are—with location extensions.

Location Extensions are critical to attracting those prospects who may live in the neighborhood or just be driving through (20% of searchers are local prospects). These extensions pull in your address and phone number, and you even can add a link to showcase directions. These extensions also work for multiple locations.
Pro tip: Use Google's "Validate Location" tool to get instant feedback on your address. You'll know right away whether there's an error or not!
4. Message extensions
Your customers are texting their friends non-stop, they might as well text you too! With these extensions, customers can click, to text you directly from your ad.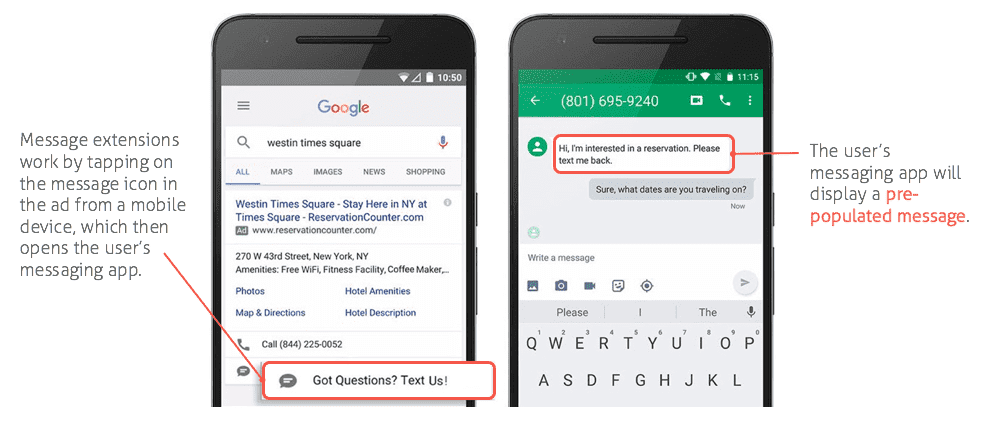 This extension will only show to those who have phones that can send text messages. Plus, they kick off the text conversation with a pre-populated message that you can craft. Nifty, right?
5. Sitelink extensions
These offer an opportunity to input more links into your ads. Your Sitelink Extension may show 2 to 6 links—the way they are presented depends on the device.

These extensions are typically shown in the ads that wind up at the top and bottom of the search results pages. Within AdVantage you can choose how many sitelinks to show and our Account Management and Client Development teams will help create and manage them for you.
6. Structured Snippet Extensions
Think of Structured Snippet Extensions like characteristics of your products or services. The goal: entice viewers with details about your business.
You may offer tech services – but what kind? A structured snippet might say: "tech support, e-waste recycling, computer repair, and more". Or you may be selling flight tickets. In which case, the snippet could share a list of destinations.
These snippets are additions that flow underneath your core ad text, in a header format. It's considered best practice to aim for at least 4 values for every header.
Don't pass up a good thing.
Ad extensions give you a free way (free!) to enhance your campaigns. It's worth a shot, especially if your budget is on the edge of teetering into the fail zone.
Extensions are a no-brainer if you're working with tight budgets and want to improve the ROI for your advertisers.
---
Easily manage and scale Ad Extensions for your clients.
CONTACT US