In preparation for Google's deprecation of Universal Analytics in July 2023, MatchCraft has successfully integrated Google Analytics 4 (GA4) into its AdVantage platform. GA4 is the latest version of Google Analytics and is now the default property type for all new Google Analytics accounts. When linked to AdVantage, GA4 adds session and conversion data to the platform which can then be used for cross-channel optimization and merchant-facing reporting.
Benefits of Google Analytics 4 to Partners & Advertisers
Shorter reporting delay.

AdVantage is able to fetch GA4 data the following day, a reduction from the two-day delay for UA processing.

Support for auto-tagging.

The AdVantage integration with GA4 includes the same feature set whether Google Ads Auto-Tagging is enabled or not. Previously, auto tagging was only supported for campaigns using the "Standard Analytics" setting for UA.

Flexible attribution model support.

GA4 reporting in AdVantage uses the attribution model set in the GA4 property, offering greater flexibility to merchants and resellers. UA uses "Last Ad Click" attribution for "Enhanced Analytics" campaigns and "Last Non-Direct Click" attribution for "Standard Analytics".

Reporting by conversion name.

All campaigns using GA4 will include support for reporting by conversion name. Previously, this was only supported for campaigns using the "Enhanced Analytics" setting for UA.

Simplified UTM requirements.

AdVantage only relies on the utm_content parameter for GA4 reporting. All other parameters can be customized.

Support for reconciliation.

AdVantage re-fetches GA4 data for a given date four days after the initial fetch to better handle any data changes or delays from Google.

More granular reporting in Google Ads.

AdVantage will create a Google Ads conversion action for each named conversion in GA4 (compared to a single, shared conversion action for all UA goals completions).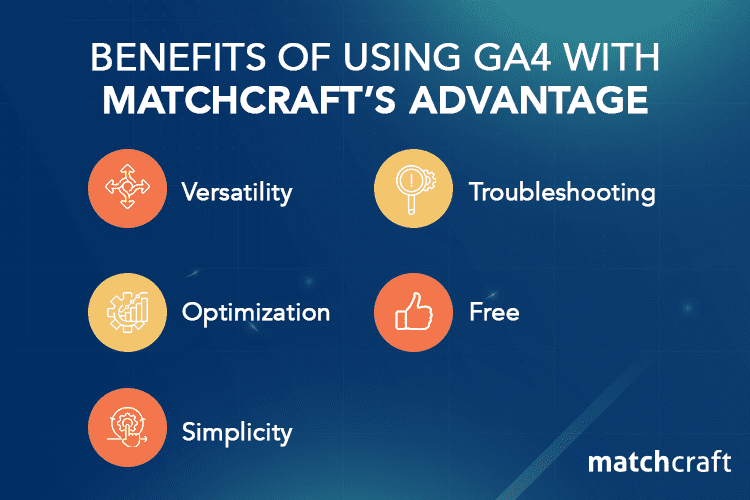 Benefits of using GA4 with MatchCraft's AdVantage
Versatility.

GA4 offers cross-channel (Google, Bing, Facebook, etc.) reporting that can be used to demonstrate the efficacy of paid campaigns.

Optimization.

GA4 performance data is a valuable source of information for powering automated campaign optimization options in AdVantage.

Simplicity.

It is easier to configure GA4 for all channels than to setup conversion tracking individually in each channel.

Troubleshooting.

GA4 can help identify high-bounce pages or other website issues.

Price. GA4 is free to use.
Bridging the Two Solutions
The Analytics section of the AdVantage platform has been updated to include the linking status for both GA4 and UA. Campaign managers have the ability to select which version of GA to use in reporting and can select which GA4 property should be used. If a campaign manager opts to use GA4 data in reporting, historical data from UA will still be available in the platform. The platform clearly displays data from both GA4 and UA if they are both linked to the campaign.

AdVantage UI showing both GA4 and UA analytics data
Similarly, advertisers have the ability to view both GA4 and UA data directly in the Merchant Center if both versions are linked to the campaign.
Advertiser-facing Merchant Center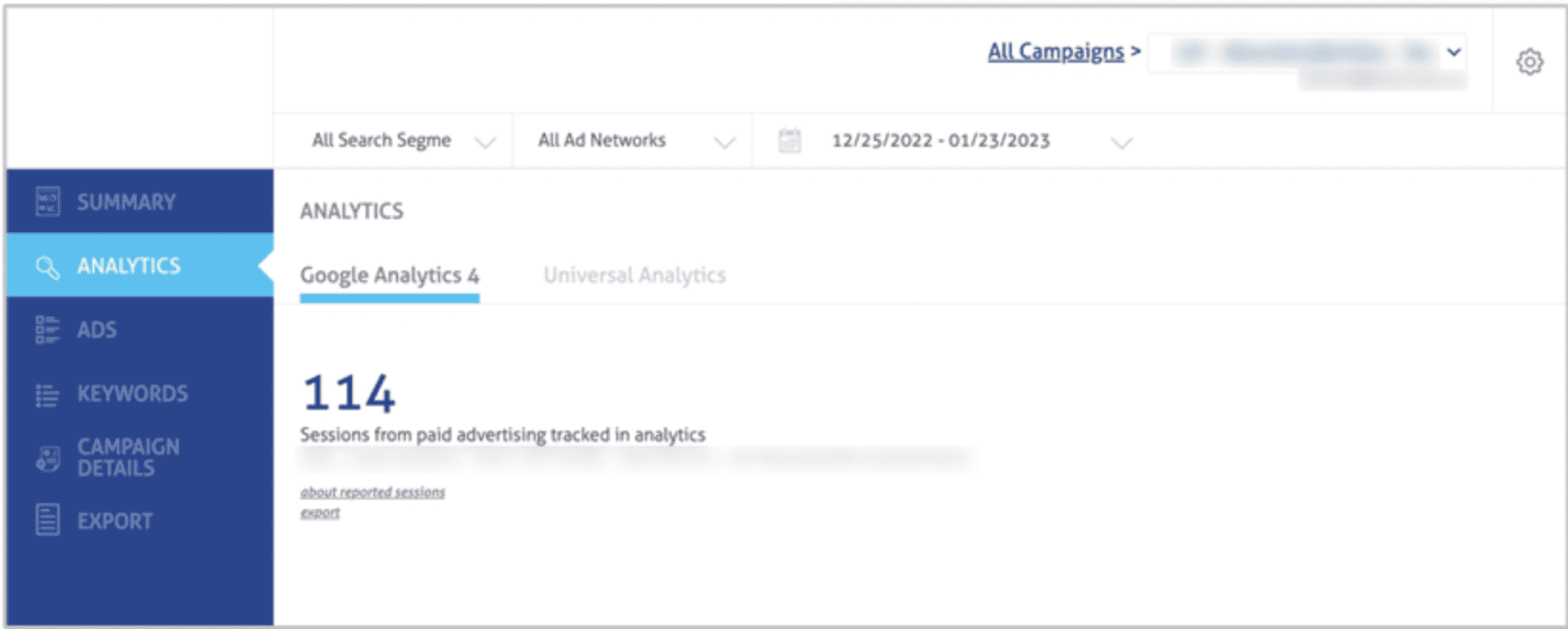 We've made it straightforward to identify when GA4 data is available to replace UA data directly in the campaign UI and when UA is retired, historical data will be retained in the platform.
GA4 utilizes the data-driven attribution model that differs significantly from UA which used the last non-direct click attribution model by default. Because the model used varies so differently from what campaign managers and advertisers are used to, it was critical that MatchCraft release the integration as early as possible. AdVantage began fetching GA4 reporting in September 2022 and historical data from that date is available in the AdVantage platform for campaigns that have been linked with GA4.