It's the most wonderful time of the year—and it's a big deal for local businesses too! Wondering what's on consumers' minds this 2023 holiday season? We've got you covered. Numerator and the National Retail Federation (NRF) have dug deep into what people are planning on getting up to for the holidays, and we have the answers you are looking for. Get ready for some exciting insights and search predictions for the 2023 winter holiday season.
Celebration Intentions
Fall 2023
Before we touch on winter, let's take a look at how things are progressing so far in autumn. According to the NRF, Halloween 2023 is set to break records with a projected spending of $12.2 billion, exceeding last year's $10.6 billion.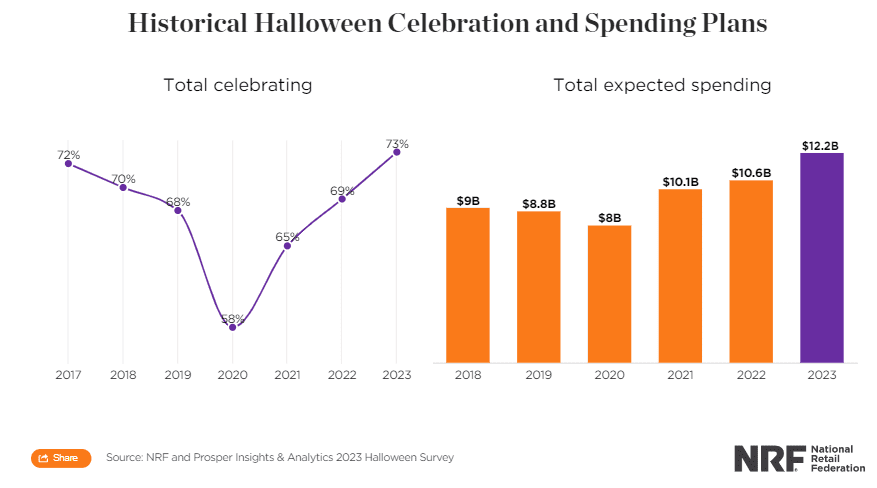 (source, National Retail Federation)
73% of Americans plan to join in the Halloween festivities, up from 69% in 2022. This year, Halloween enthusiasts are reviving pre-pandemic traditions, with 68% planning on handing out candy, 53% decorating their homes, and nearly half donning costumes.
In fact, costume spending is reaching new heights, with 69% planning some sort of costume purchase, propelling total spending to an estimated $4.1 billion. Decorations and candy also see increased budgets, contributing to a Halloween season that businesses are gearing up for with ample festive inventory.
Things are looking strong for Halloween this year, and this is only the beginning of what 2023 has in store for advertisers.
Winter 2023
According to Numerator, when it comes to which holidays consumers plan to celebrate in 2023, some are clear favorites. Thanksgiving and Christmas are expected to be the most widely celebrated holidays this year, with an impressive 97% and 96% of US consumers planning to celebrate each respectfully. Additionally, New Year's Eve is also set to be popular, with at least three-quarters of US consumers gearing up for festivities.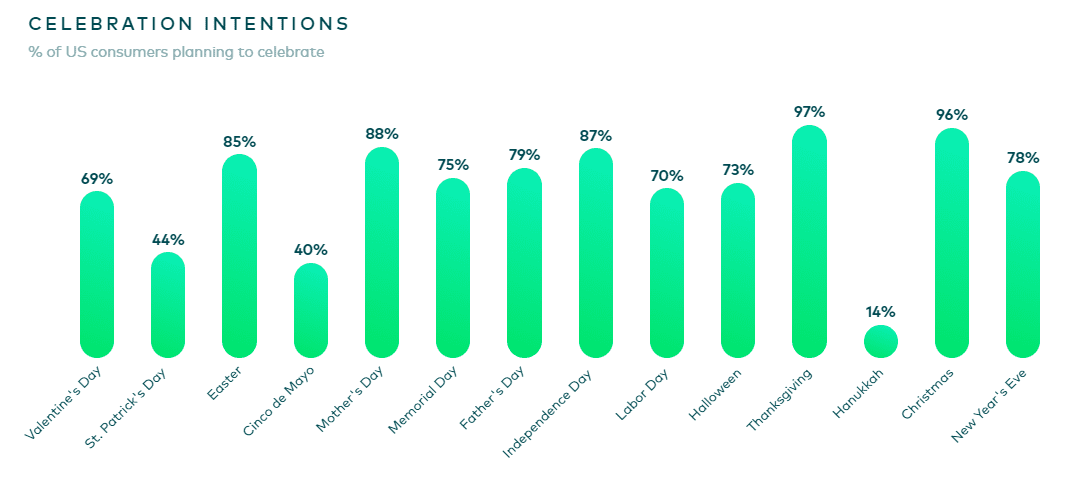 (source, Numerator)
Shopping Lists
As for what consumers intend to buy for their holiday celebrations, Numerator's survey highlights some intriguing trends. Unsurprisingly, food and alcohol top the list of products shoppers plan to purchase this winter. But it doesn't stop there—gifts also emerge as popular choices, particularly for Hannukah and Christmas.

(source, Numerator)
Top Shopping Destinations
When it comes to where consumers plan to shop for holiday goods, grocery and retailers lead the way. However, the choice of retailer often depends on which holiday the products are for. For food-focused holidays like Thanksgiving and New Year's Eve, grocery stores are the go-to, while gift-focused holidays like Hannukah and Christmas see consumers gravitating toward retailers. Big box stores, bars and restaurants, and specialty stores such as craft stores also make the list of top destinations for savvy holiday shoppers in 2023.
Holiday Spending Plans
The Numerator survey also dives deep into holiday spending, revealing that most holiday shoppers are ready to loosen their purse strings. A significant portion of respondents expect to spend over $50 on their holiday celebrations. Thanksgiving and Christmas are predicted to be the biggest splurges, with 70% of shoppers planning to shell out $100 or more on Christmas.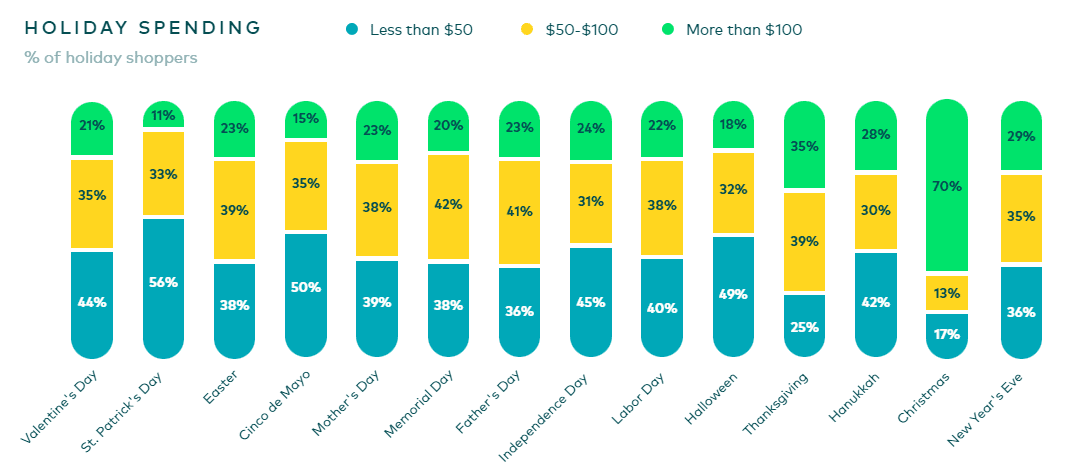 (source, Numerator)
Economic Impact
The holiday season of 2023 is expected to pose unique challenges for advertisers, driven by rising interest rates, price hikes in non-discretionary spending categories, and increased credit card usage among consumers. These factors may impact consumer spending habits, leading them to be more cautious with discretionary expenses.
According to Forbes, shoppers are turning to discount stores and off-price retailers, while traditional department stores focusing on higher-priced merchandise are experiencing sales declines. Additionally, the depletion of pandemic savings and the commencement of student loan repayments will further challenge consumer spending during the holiday season, setting the tone for the retail landscape into 2024. For advertisers, you'll need to adapt your strategies to navigate these evolving consumer behaviors effectively.
This is supported by research from Numerator, which found that half of those surveyed believed the economy would have an impact on their holiday celebrations and shopping. To counter this, consumers plan to take various money-saving measures, including buying items on sale, purchasing fewer items overall, using coupons, opting for budget-friendly foods, shopping at discount stores, and switching to store brands.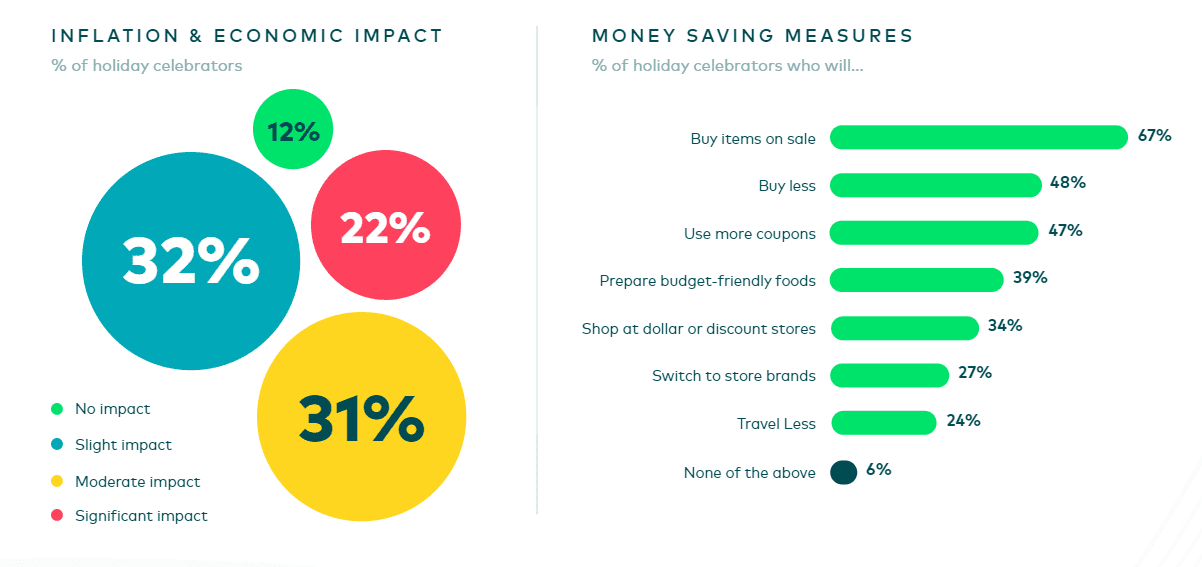 (source, Numerator)
While people plan to splurge a little bit for popular winter holidays, consider how you will engage with the intended audience to help them see the best bang for their buck.
Best Practices
Plan Early
Start your holiday advertising campaigns well in advance. In fact, Google suggests 21% of consumers have already completed their holiday shopping. Early planning allows you to create compelling content, secure ad placements, and build anticipation among your target audience.
Understand Your Audience
Know your target audience's preferences, behaviors, and pain points related to the holiday. Tailor your messaging to resonate with their interests and needs during the season.
Leverage Data
Every decision should be an informed one. Utilize data analytics and insights to inform your campaign strategies. Understand past performance, consumer trends, and spending habits to optimize your ad spend effectively.
Creative Content
Develop eye-catching and engaging creative content that aligns with the holiday theme. Incorporate festive visuals, flashy colors, and impactful messaging to grab attention and evoke the holiday spirit.
Our Latest Articles:
Beyond Google: How MatchCraft's Bing Partnership Expands Advertising Horizons
Automation VS Outsourcing: Pros and Cons for PPC Agencies
Mobile Optimization
Ensure that your ads are mobile-friendly since nearly two-thirds of consumers browse and shop using mobile devices for holiday shopping (Forbes). Responsive design and fast-loading pages are key to providing the ultimate user experience.
Promotions and Discounts
Given that consumers are looking to save money this holiday season, offer special promotions, discounts, and limited-time offers to entice holiday shoppers. Highlight savings and value propositions in your ads to attract budget-conscious consumers.
Adapt to Trends
Stay up-to-date with current trends and popular culture references related to the holiday. Incorporate trending themes and elements into your campaigns to stay relevant and relatable.
A/B Testing
Conduct A/B testing to optimize ad copy, visuals, and CTAs (calls to action). Experiment with different elements to identify what resonates best with your audience and adjust your campaign accordingly.
Retargeting
Implement retargeting campaigns to re-engage with users who have previously interacted with your brand but didn't convert. Remind them of your holiday offerings and promotions.
Related Topics:
Automate Google and Bing Ads with Google Connect | MatchCraft
The Power of Targeting: Maximizing Local Reach
Unlocking Cost-Effective Lead Generation Strategies with MatchCraft
Budget Management
Set a clear budget for your holiday campaigns and monitor spending closely. Adjust your budget allocation based on the performance of different ad channels and campaigns.
Ad Schedule
Schedule your ads strategically to coincide with peak shopping times and days leading up to the holiday. Consider running time-sensitive promotions during key moments, such as Black Friday and Cyber Monday.
Customer Support
Ensure your client's customer support and service teams are prepared to handle an increased volume of inquiries and orders during the holiday season. Quick and helpful responses can boost customer satisfaction.
Measure and Optimize
Continuously monitor the performance of your holiday campaigns in real time. Use key performance indicators (KPIs) to evaluate ROI and make adjustments to maximize results.
Post-Holiday Engagement
Holiday spending doesn't stop when the clock strikes midnight. Continue to engage with customers, gather feedback, and maintain a relationship with them. Gift cards are popular gifts, and consumers are poised and ready to snatch up deals after the holiday season.
Leverage MatchCraft for 2023 Winter Holiday Success
Campaign managers, take your advertising efforts up a notch for your clients this holiday season by partnering with MatchCraft. Book a demo with our experts today to get started.