Google Connect is a new and innovative way for the MatchCraft platform to manage Google Ads campaigns. With this new product, you can access the most awaited features that were previously not supported via the platform or API. This includes the ability to create Google campaigns in MatchCraft and make changes directly in Google Ads. 
Connect and Standard Accounts Differences
Google Connect will be available as "Connect" when you create a new account in the platform while existing accounts will be referred to as "Standard" accounts. While Standard accounts can be converted to Connect accounts, Connect accounts cannot be changed to Standard accounts. 
One significant difference between a Connect and Standard account is that a Connect account can be edited directly in the channel or third party editor such as Google Ads UI and Google Ads Editor, while still being linked to and managed by MatchCraft. On the other hand, campaigns and segments in a Standard account can only be edited within the MatchCraft UI or via the ROAR API.
In a Connect account, editing objects from the channel is bi-directional. For example, a Responsive Search Ad can be created in MatchCraft and edited in Google (or vice versa). When these changes are made in the platform they are immediately visible in the channel.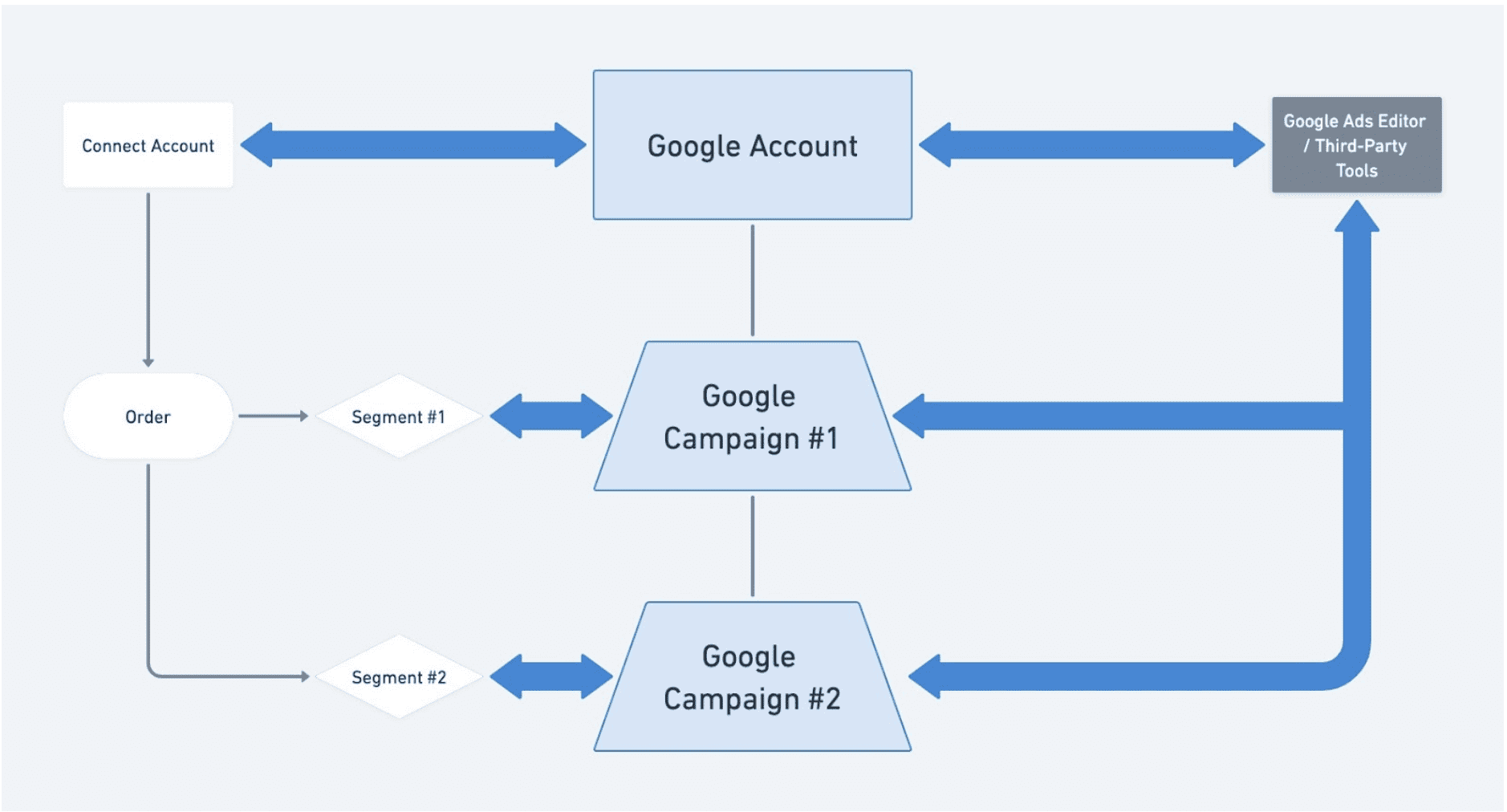 Benefits of Using Google Connect
With Google Connect, you can enjoy the same benefits from Standard accounts such as:
Google Analytics integration with easy setup and automated uploads of Google Analytics conversions to Google Ads

User role management

Flexible budget-cycle support with reporting in retail amounts

Taxonomies for search advertising

Notifications (diagnostics and disapprovals)

Sales-oriented estimator
Plus, you get these benefits with new exclusive features:
Connect accounts can use Google Ads UI to access targeting or detailed Google Ads settings that are not supported via the MatchCraftUI or API.

Bi-directional sync between MatchCraft and Google

Support for Google Video campaigns
Mirror Google Search Segments to Bing
Take advantage of the best of both worlds and reach even more potential customers. Google Connect just got even more powerful with the addition of Bing integration. With Google Connect and Bing, users can now mirror their Google Search segments in Connect accounts to paired Bing Search segments, ensuring consistency across platforms.
Any updates made to a Google Search segment, either in MatchCraft or directly in Google, will be automatically mirrored in Bing, saving time and ensuring consistency.
If you're interested in learning more about how Google Connect can help you take your advertising campaigns to the next level, speak to one of our MatchCraft experts today. We're here to answer any questions you may have and provide you with the support you need to succeed.
Book a demo to see how Google Connect can expand your client campaigns and results!