With 2022 behind us, we took the opportunity to compile fourth quarter trends for CPC and CTR across key verticals.
Below are the results of our analysis based on the category usage of US English campaigns managed by AdVantage.
PPC Trends worth-noting
Travel still boasts the second highest average CTR of 11.49%, a 20% increase from Q3, while maintaining one the lowest CPC at $0.83.
Arts and Entertainment has the best of both worlds with the third highest average CTR at 10.78% while maintaining a low CPC of $0.69, a 58% decrease from last quarter.
Green Technology still holds the crown for the highest CPC at $3.28, but still, a 48% decrease from Q3. While Dating and Personals steals the highest CTR from Advocacy, with 12.14% average CTR.
Average PPC Cost Per Click by Industry
Green Technology is the highest CPC at $3.28. It is followed by a close-tie between Construction & Repair at $3.17 CPC and Legal Services at $3.15. Food and Beverage comes as the lowest CPC at $0.64 while Arts & Entertainment sits closely at $0.69.
Average Click-Through Rate by Industry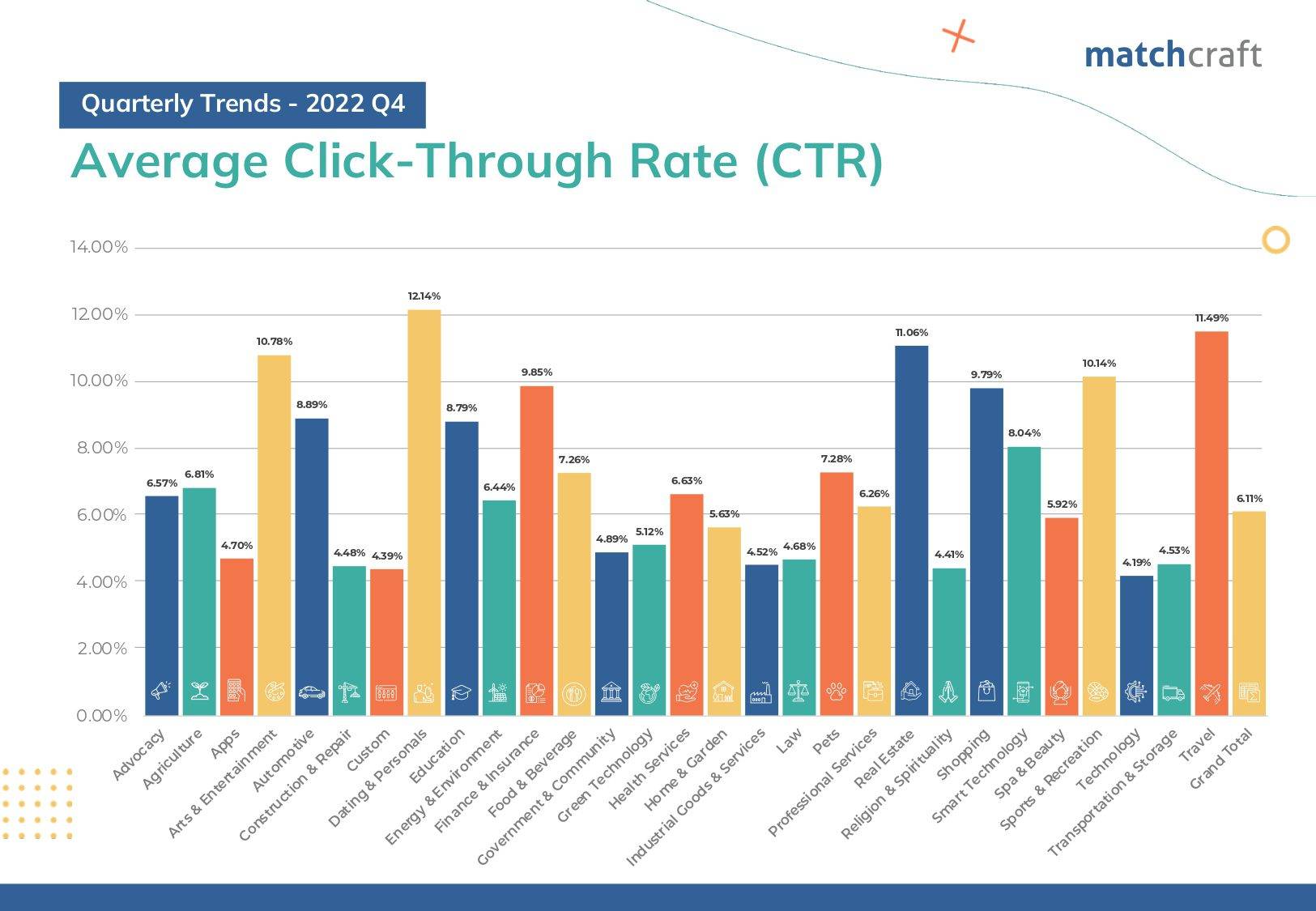 Dating and Personals sits the highest average CTR this quarter with 12.14% CTR. Travel rose from 4th place last quarter to snag the second highest average CTR at 11.49%. We can also see a boost on the real estate industry with third highest average CTR at 11.06%. On the other hand, Technology has the lowest average CTR at 4.19%.
The included analysis of MatchCraft's propriety data provides insights into categories whose overall performance indicates they should be considered for inclusion in campaigns. Additionally, these categories serve as an indicator of verticals demonstrating strong performance.
Download a copy of the MatchCraft PPC Trends Q4 2022